Model NO.:
RZCUT5-6016EF-2H
Application:
Leather Shoes, Leather Furniture, Leather Bag etc.
Table Type:
Conveyor Belt Table
Multi-Functional Head:
Vibration Knife, Punches, Pen
Number of Cutting Head:
Dual Head
Special Feature:
Machine Table Combines Cutting and Nesting Area.
Transport Package:
International Standard Wooden Case
Automatic Feeding CNC Leather Cutting Machine with Conveyor Belt
 

RZCUT5-6016EF is our NEW model for genuine leather cutting with two cutting heads. Cutting by oscillation knife, it's positioned for fast and accurate production of shoes upper, automotive interior, garment, leather goods etc.

Characteristics
1. Major Features:Â 
Two multi-functional cutting heads working at the same time, finishing interactive cutting, punch and marking in one workflow. --FAST !
Leather cutting area and leather nesting area is combined in one table facilitates high-efficient work processes. -- SAVE !
 
Conveyor belt helps with automatic leather feeding. -- CONVENIENT ! 

2. 4 Significant values make it stand in the lead!
 Production value: Two heads can be work independently at the same time. 3-6 times faster than cutting by traditional method. 
 Management value: Saves 6-9 workers comparing with traditional production processes of shoes, garment automotive interior or other leather goods, saving about RMB 270,000 every year for labor cost.
 Creation value: Intelligent, flawless and creative patterns increase your product value, making you more compatible in the market.
 Cost value: It can increase your materials average utilization of 5%-8%.
 
3. Technical Specification:Â 
| | |
| --- | --- |
| Effective Work Size | Cutting Area - 3000*1600mm; Nesting Area - 3000*1600mm |
| Cutting Speed | Maximum straight line cutting speeding up to 1200mm/s |
| Cutting Thickness | Max. 6mm |
| Processing Material | Genuine leather, synthetic leather, PVC leather, cardboard, carbon fiber, aramid fiber etc. |
| Hold Method | Vacuum absorption |
| Machine Language | HP-GL / GP-GL |
| Interface | Transmission by LAN cable, serial port and parallel port |
| Accuracy | Less than 0.3mm |
| Available Tools | Vibration knife, pen and holes punching |
| Oscillation Knife | Electronic, driven by Swiss high frequency motor (18000rotate/min) |
| Cutting Features | Possible to finish full-cut, kiss-cut and dotted-line cut interactively |
| Vacuum Power | 9 KW*3, 3-Phase ,380V-50Hz/220V-60Hz |
 
4. Cutting Sample Display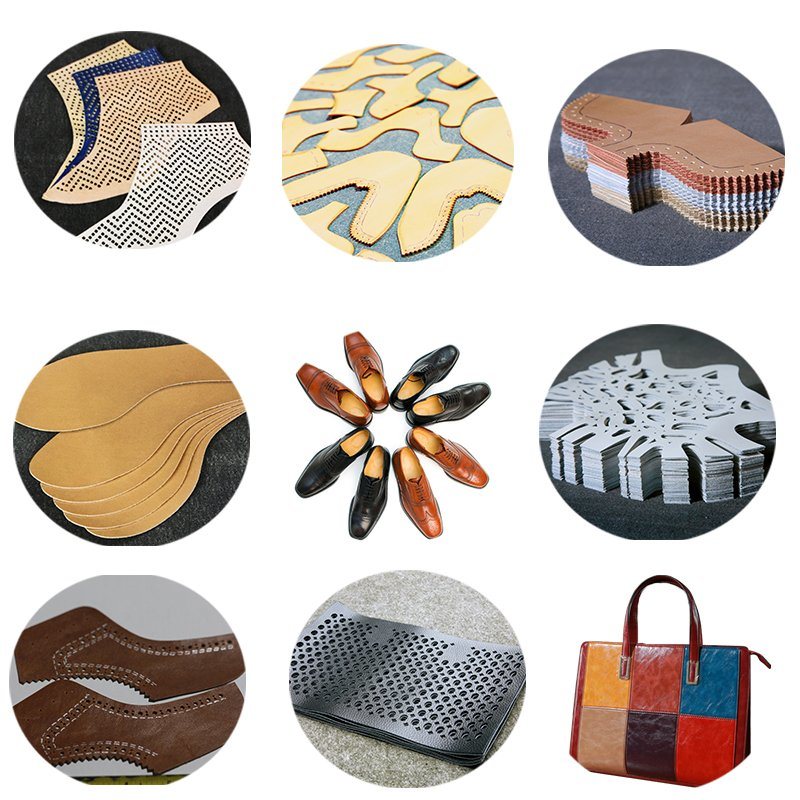 Tools and Functions of Leather Cutting Machine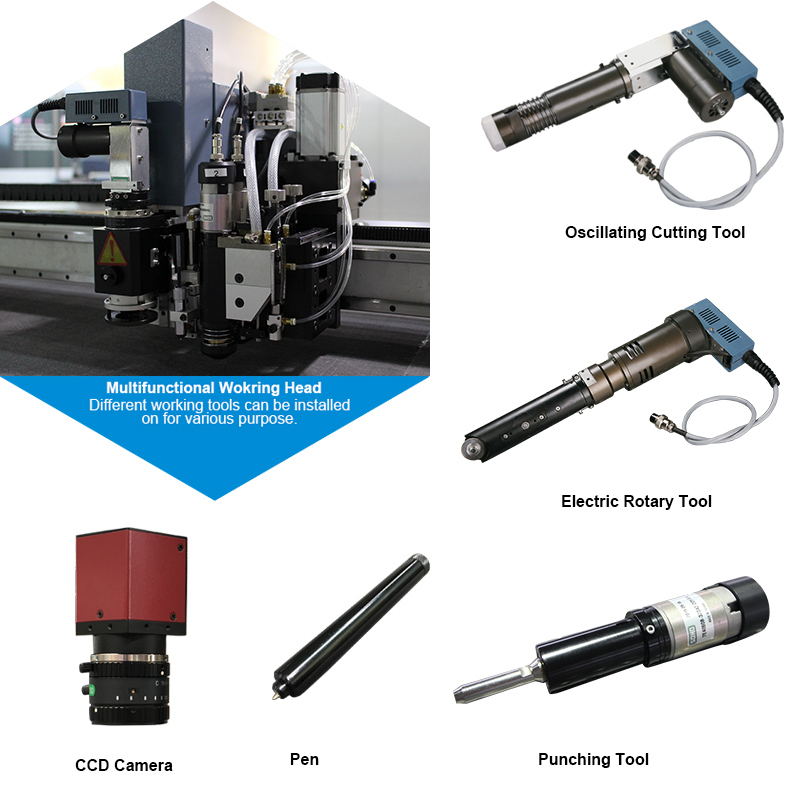 1. Oscillating knife
 It is fast, accurate and no burning nor smell.
2. Creasing wheel:
 A set of creasing wheel with four different sizes can make good folding lines according to your different  materials.
3. 45 degree cutting knife
 This is special for V groove making when it comes to materials like honeycomb board, gray board and other  relatively thicker materials.
4. Milling knife
 This is specialized for Acrylic and thin wood material cutting.
5.CCD: camera, professional for positioning for print materials. Automatic and precise.


Packaging of Our CNC Cutting Machines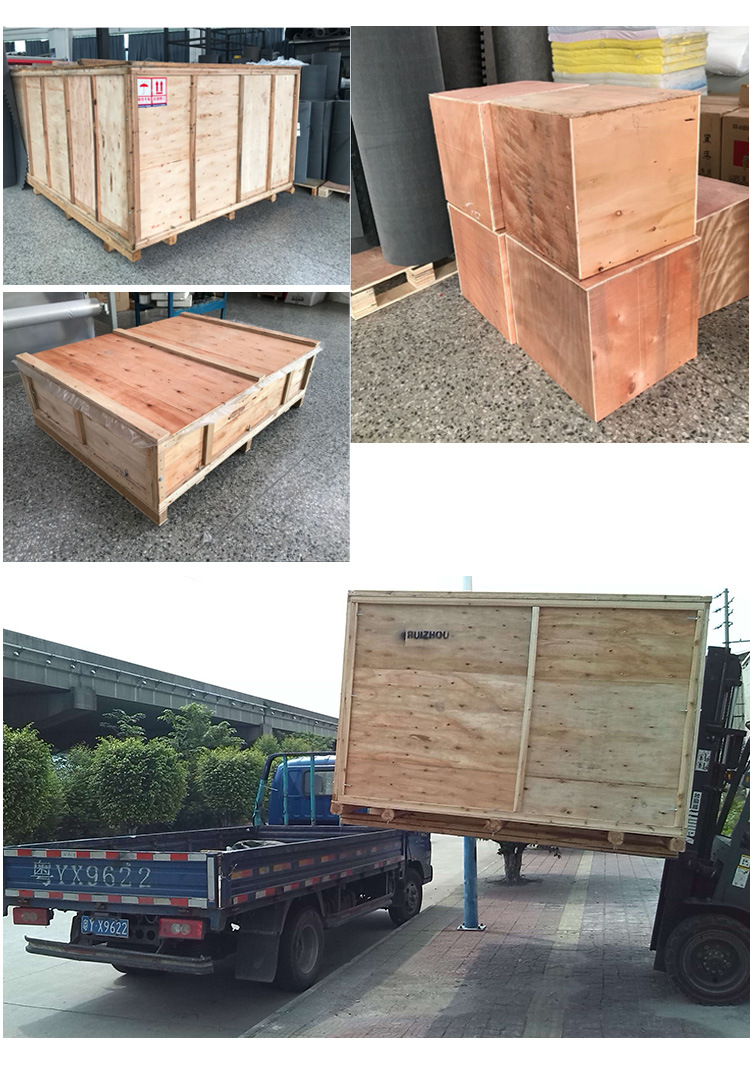 Factory Show
Guangdong RUIZHOU Technology Co., Ltd is a national Torch Plan High-tech Enterprise, specialized in the research, development, sales and technique service of soft material intelligent CNC cutting machine.
RUIZHOU Technology has been dedicated in supplying informationized and automatic design and whole solution of intelligent production for a broad community of soft material manufacturers, which achieves  the realization of the confluence of informatization and industrialization.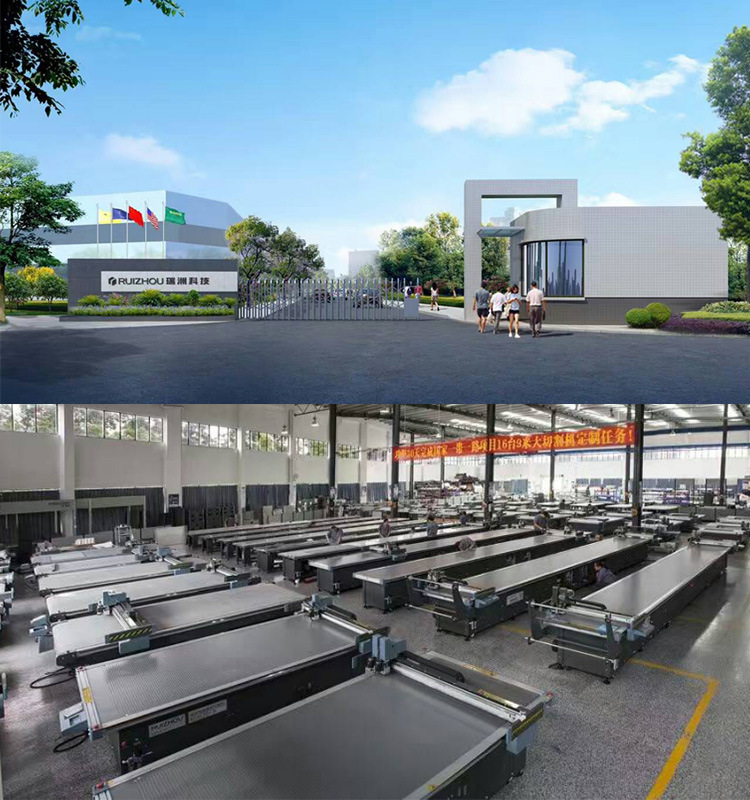 Certifications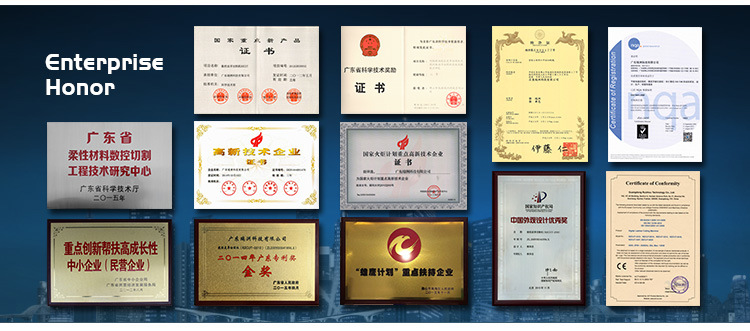 Our Services
Guarantee Period:
*Â Â One year warranty against delivery
Spare Parts:
*Â Â All spare parts are available whenever needed.
Training:
*Â Â We provide one free operation training for our products in our office.
On the Spot Service:
*Â Â On the spot can be considered and arranged.
General Timeliness:
* Â Respond within 24 hours.
 
 FAQ
 1. Q: What are the consumables?
     A: Cutting blade, punches, pen refill, cutting mat, projection lamp. 
 2. Q: Can machine recoginze leather defects and avoid them during cutting? 
     A: Yes. 
 3. Q: What format is compatible to the machine? 
      A: DXF & PLT