The JDP-A(clean water)pump equipped with go flow/no flow system is the most versatile submersible pump available.
This pump can be used to maintain a specific water level.
Owing to the automatic switch system, the pump is much more sensitive to the water level than those equipped with traditional floating switch. Submersible pump jdp-a is specifically engineered to handle the tough demanding tasks of removing excess water from swimming pools, swimming pool covers spas, fountains, basements or any other area with excess accumulated water. The pump has been manufactured to the highest standards of workmanship and materials to give users many years of exceptional performance. The pump housing, constructed of durable polymer material, provides protective shield for the motor.
Perfect for:
Pools/garden ponds/basements/pool covers/home floods/garages/spas/etc
Clean water main specifications:
Liquid temperature up to 35c
Max. Ambient temperature: 40c
Protection IP X8
Max. Grain size: 5mm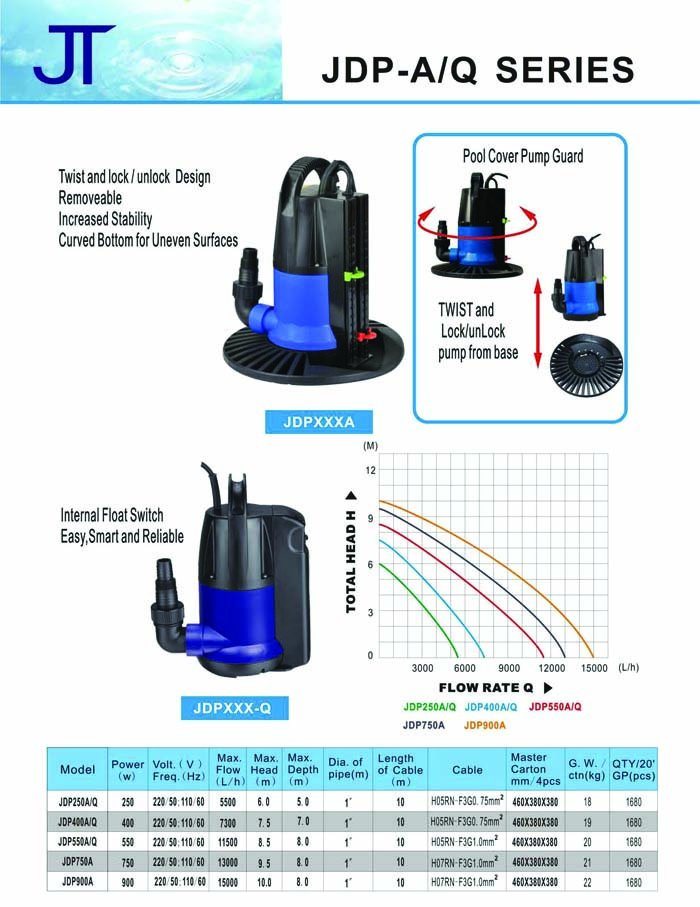 MODEL
POWERÂ  (w)
MAX. FLOWÂ  (L/h)
MAX. HEADÂ  (m)
MAX. DEPTHÂ  (m)
DIA. OF PIPE
LENGTH OF CABLE
INNER BOX/PC
JDP250A
250
5500
6
5
1"
10m
220*160*360
JDP400A
400
7300
7.5
7
1"
10m
220*160*360
JDP550A
550
11500
8.5
8
1"
10m
220*160*360
JDP750A
750
13000
9.5
8
1"
10m
220*160*360
JDP900A
900
15000
10
8
1"
10m
220*160*360
Tg Series Solenoid Valve,Solenoid Valve,Pneumatic Valve
Air Treatment Units Co., Ltd. , http://www.nspneumatic.com