Discharging Size:
0.074-0.4mm
Liner Plate:
Rubber & Mn Alloy Steel
Color:
as Your Requirement
Transport Package:
in Container
China Energy-Saving Wet Overflow Ball Mill for Gold Ore Plant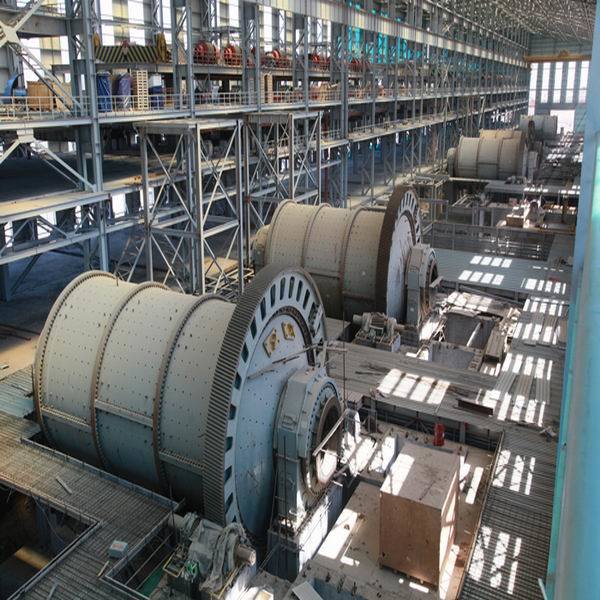 Ball Mill is the key equipment for grinding materials to get the product as per the requirement of process, used widely in electric, ferrous (non-ferrous) metal, nonmetal mining, chemical & building material industries. 
1. Usage:
Raw material mill is used widely for grinding (both drying and grinding) cement raw material and other materials in building material, metallurgical, electric and chemical industries.
2. Sorts and Features:
a. Common Raw Mill It is used for small & medium-sized raw materials separating system outside the mill.
b. Air-swept Mill The feature of Air-swept mill is short and thick in shell, wide in diameter of inlet &outlet trunion, large in grate gap area of diaphragms between drying chamber & grinding chamber, no grate plate in mill outlet. therefore, air speed inside of mill could reach 5m/s due to small resistance and drying capacity is strong since large amout of hot air could get in.
c. Outlet Discharging & Lifting Cycle Mill Comparing with Air-swept mill, material, passing through the drying chamber, are discharged at the outlet of grinding chamber by mechanical way, and then fed into separator by elevator which would return the coarse material to mill again for cycle grinding.
d. Middle Discharging & Lifting Cycle Mill From the view of drying, it is the combination of Air-swept Mill & Outlet Discharging & Lifting Cycle Mill; from the view of grinding, I workssimilar to secondary stage cycle grinding system. At the front end, it has drying chamber with high drying efficiency. Materials are fed from mill inlet, returned material from separator are fed through mill inlet & mill outlet into rough grinding chamber & fine grinding chamber respectively.
 
Working principle of ball mill:
There are many grinding medium balls inside the continuous rotating drum (there are many rods inside the rod mill). The continuous feeding material is broken by the shooting balls which are coming from a certain height of the wall of the drum; The falling medium and material would produce irregular slip and roll during the rotation of the drum, and the material is pulverized fine by the grinding effect among medium, drum-lining and materials. The dynamic material level different is produced by continuous forced material charge and discharge, consequently more and more fine material is slow out from the drum, and finish the grinding process inside the drum. 
Technical parameter table:




Model

Cylinder

Feed size (mm)




Max. ball




Loading




(t)




Speed




(r/min)




Capacity

(

t/h

)

Discharging                size




(mm)

Main Motor




(KW)

Weight        (t)

Diameter




(mm)

Length




(mm)

MQY-0918

900

1800

≤20

1.5

36-38

0.65-2

0.075-0.89

18.5

4.6

MQY-0930

900

3000

≤20

2.7

36

1.1-3.5

0.075-0.89

22

6.7

MQY-1224

1200

2400

≤25

3

36

1.5-4.8

0.075-0.6

30

11.9

MQY-1230

1200

3000

≤25

3.5

36

1.6-5

0.074-0.4

37

12.8

MQY-1245

1200

4500

≤25

5

32.4

1.6-5.8

0.074-0.4

55

13.8

MQY-1530

1500

3000

≤25

7.5

30

2.8-6.3

0.074-0.4

75

18

MQY-1545

1500

4500

≤25

11

30

3.8-9

0.074-0.4

110

21

MQY-1830

1830

3000

≤25

11.5

26.6

4.5-12.5

0.074-0.4

130

33

WQY-1845

1830

4500

≤25

15

26.8

6-15.5

0.074-0.4

155

35.5

MQY-2130

2100

3000

≤25

15

23.8

5.8-18

0.074-0.4

155

43

MQY-2136

2100

3600

≤25

18

23.8

6.8-22

0.074-0.4

180

47

MQY-2145

2100

4500

≤25

24

23.8

8-25

0.074-0.4

245

54

MQY-2230

2200

3000

≤25

18

21.3

6.9-23

0.074-0.4

180

48

MQY-2245

2200

4500

≤25

27

21.3

8.5-26.8

0.074-0.4

280

52

MQY-2430

2400

3000

≤25

23

21.3

7-26

0.074-0.4

245

51

MQY-2436

2400

3600

≤25

26

21.3

8.8-33.5

0.074-0.4

280

58

MQY-2445

2400

4500

≤25

30

21.6

11-42

0.074-0.4

320

69

MQY-2460

2400

6000

≤25

44

21.7

14.5-56

0.074-0.4

480

78

MQY-2736

2700

3600

≤25

33

20.7

11.7-54

0.074-0.4

400

86

MQY2740

2700

4000

≤25

38

20.7

13-60

0.074-0.4

450

92

MQY-2745

2700

4500

≤25

43

20.7

14.5-67.5

0.074-0.4

480

98

MQY-2750

2700

5000

≤25

48

20.6

16-75

0.074-0.4

500

106

MQY-2760

2700

6000

≤25

57

20.6

19.5-90

0.074-0.4

630

116

MQY-3040

3000

4000

≤25

47

19

16.5-78

0.074-0.4

500

108

MQY-3064

3000

6400

≤25

74

19

26-125

0.074-0.4

800

138

MQY-3245

3200

4500

≤25

59

18.2

21.6-95

0.074-0.4

630

126

MQY-3254

3200

5400

(1) It is used as a variety of industrial metal parts that like electronic component, auto spare parts,

home appliance, industrial equipment...etc. Material grade are: aluminum alloy5052, 6063, 6061.

(2) Software for specification drawings: Pro/E, Auto CAD, PDF, IGES/IGS, STP/STEPS, X_T, DXF etc..

(3) High precision as following: Aluminum alloy: 1mm~8mm

Accuracy: positioning accuracy: ±0.03mm, Repeated positioning accuracy: ±0.02mm

(4) Main poduction machine: Laser Cutting Machine, CNC punching machine, welder, CNC bending machine

(5) Surface treatment: Polishing, grinding, gavanized, powder coating, nickel, zinc, chrome, silver, gold plating etc.

(6) For packing: A variety of packing methods can be used according to customers' requirement, such as carton , wood box, wood crate and pallet etc.

Aluminum Laser Cutting

Aluminum Laser Cutting,Steel Laser Cutting Machine,Sheet Metal Laser Cutting Machine,Custom Aluminum Laser Cutting

Nanpi Jian Tong Hardware Manufacturing Co., Ltd. , https://www.jiantongstamping.com