Cylinders Type:
16 in V-Type
Transport Package:
Plastic Membrane, Polywood Box
Specification:
7600x2600x3000(mm)
Diesel Generator/Generation Synchronous High Voltage 1760KW
 
Gas generator set 
Main Technical Parameters

Prime power

1600 KW/2000 KVA

Standby power

1760KW/2200 KVA

Rated speed

1500rpm

Rated voltage

400V/230V

Rated current

2886A

Rated frequency

50Hz

Model of Connection:

3 phases 4 wires

Starting method

24V DC electric starting

Noise level(LP7M)

≤104 Db

Size & Weight

Dimension  L× W × H

7600x2600x3000(mm)

Net weight

26000 kg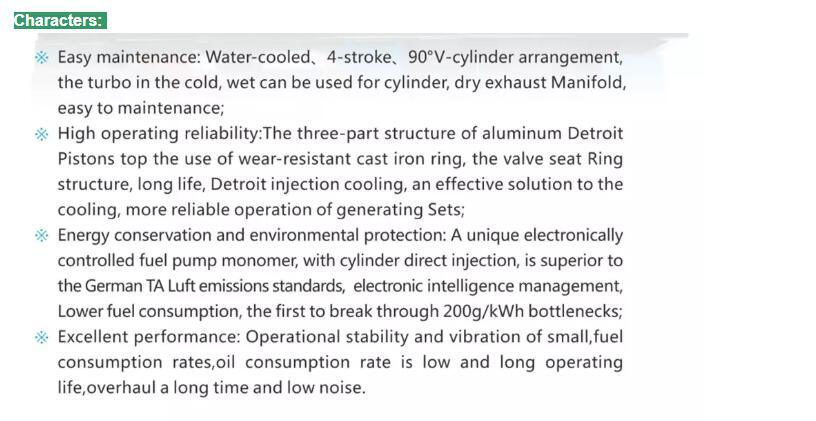 Engine
Main Technical Parameters

Brand

MTU

Engine Model

10V4000G23

Cylinders no. & Type                      

16Â cylinders in V-type

Intake type

Engine with exhaust turbocharger (ETC) and intercooler

Bore × Stroke

170×210mm                

Displacement

95.4Â L

Fuel consumption

542Â L/h

Oil consumption

≤0.5%

Governor

Electric

Fuel supply mode

Direct injection

Compression ratio

16.4:1
 Advantages:
1. Advanced engine electronic management system--ADEC system
2. Advanced fuel injection system--fuel injection system
3.Turbocharged technique (Sequential turbocharging and overspeed exhaust venting technology) and cooling technique(Segmented water-cooling cycle technology)
4. Good adaptability: altitude 400m, environment temperature 40ºC
5. Overhaul time up to 24000h


Alternator
Main Technical Parameters

Brand

Marathon

Engine Model

MX-1600-4

Power factor

0.8

Governor type

Brushless

Insulation class

H

Winding pitch

2/3-(N°6)

Protection grade

IP21/IP23

Over-speed capacity

2250min

Short-circuit current capacity

300%(3 multiple):10s
Advantages:
1.  Brushless, self-exciting         
2. Â Â AC excitation, rotating rectification tube
3.  Class 'H' insulation           
4. Â Stator grease insulation covered
5.  Automatic Voltage Regulator Self regulating               
6. Â Rotator and excitation high polymer
7.  With fan cooling               
8.  Resist the corruption of oil and acid, and humid grease          
10. High-quality lubrication sealed long-time bearing
  
 Control panel

 
Features:
 Control with AMF module
 Fuel usage monitor and low-level alarms
 Emergency stop push button
 Fully PC or front panel configurable
 Custom graphical icon interface display
 Manual/automatic load transfer
 Automatic shutdown on fault condition
 Remote communications (RS232 & RS485)
 Provides engine alarms and status information and alarm indication by 1 LED & LCD;
 Can be used with ATS or may allow up 1 to 32 generators to load share.
 Provides access to historical alarms and operational status
 5. Optional accessories
Jacket pre-heater
Oil-water separator
Oil pre-heater
Spit-type daily fuel tank
Standard container
Rain-proof case
Sound-proof container
Trailer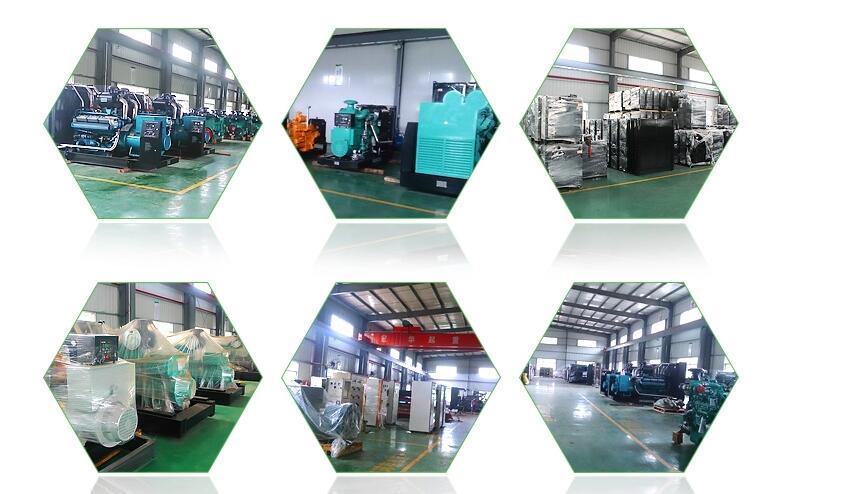 1. What's the environment your product could be used? 
    Temperature -20ºC~40ºC
    Relative humidity ≤95%
     Altitude ≤1000m
2. Does the engine set could meet environment standard?
    Yes, our low-emission diesel generator set has a tailor-made exhaust silencer system, which conform to Euro III / IV emission standards.
3. Warranty time?
    12 months after delivery date or 1000 operating hours(whichever occurs first).
4. Can we get other after-sales service?
    Yes, we supply Perkins, Marathon Global Web Services support sharing.