Radio Power:
Internal :5W / External :35W
Static Accuracy:
H:3mm+0.5ppm;V:5mm+0.5ppm
Rtk Accuracy:
H:8mm+1ppm;V:15mm+1ppm
Transport Package:
Carrying Case
Specification:
178mm * 89mm *30mm (7in *3.5in * 1.18in)
 
MODEL
S86
Tracking Capability

Number of Channels

220 channels

Tracked Signals:

GPS: L1C/A, L2C, L2E, L5

GLONASS: L1C/A, L1P, L2C/A(Glonass M only), L2P

Galileo: E1, E5A, E5B

BDS: B1, B2, B3

SBAS: L1 C/A , L5

Positioning Accuracy
Code differential GNSS positioning(DGPS)

Horizontal

±0.25 m + 1 ppm RMS

Vertical

±0.50 m + 1 ppm RMS

SBAS differential positioning accuracy

Typically <5 m

Static GNSS surveying

Horizontal

±2.5 mm + 0.5 ppm RMS

Vertical

±5.0 mm + 0.5 ppm RMS

Real Time Kinematic surveying[RTK]

Horizontal

±8 mm + 1 ppm RMS

Vertical

±15 mm + 1 ppm RMS

Initialization time

Typically < 8seconds 

Initialization reliability

Typically >Â 99.9%

Hardware Physical

Size

16.5 cm x 16.8cm x12.2 cm

Weight

1.85 kg with battery

Operating Temperature

-45ºC to +60ºC

Storage Temperature

-55ºC to +85ºC

Humidity

100%,condensing

Dust/Water Protection

IP67Â Â at closing all connector caps. Protected agaist temporary immersion up to 1m depth.

Shock and vibration

Designed to survive a 2.5m natural fall onto concrete.

Electrical 

Power 12 to 15V DC external power input  with over-voltage protection 

Rechargeable, removable 7.2V,8.8Ah Lithium-ion battery in receiver

Battery life

20 hours from standard supply(varies with temperature and working mode)

Operation system

Button

Four buttons

LCD

1.54 OLED, 128 x 64Â 

Communications and Data Storage
Internal Radio

Frequency

410~470MHz

Transmitting power

0.5W/2W adjustable 

Working range

3~5km 

External Radio

Frequency

410~470MHz

Transmitting power

5W /35W  adjustable 

Working range

8~30km

Cellular

WCDMA3.5G, GPRS/EDGE(option CDMA2000/ EVDO 3G)

Bluetooth

Bluetooth 2.1+EDR/ Bluetooth 4.0 BLE

Data storage:Â 

Internal Memory

4 GBÂ 

External Memory

Micro SD card (Max. 32GB)

Data Formats:

1Hz positioning output, up to 20Hz 

CMR, CMR+, RTCM 2.3, RTCM 3.0, RTCM 3.1, RTCM 3.2Â 
 
External Radio Model,Display: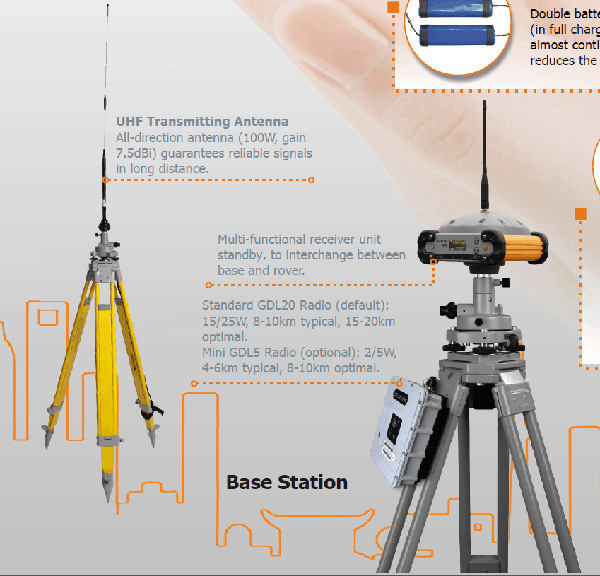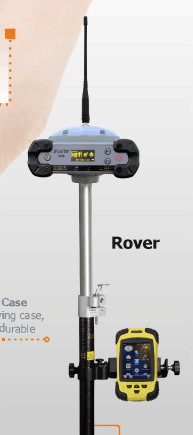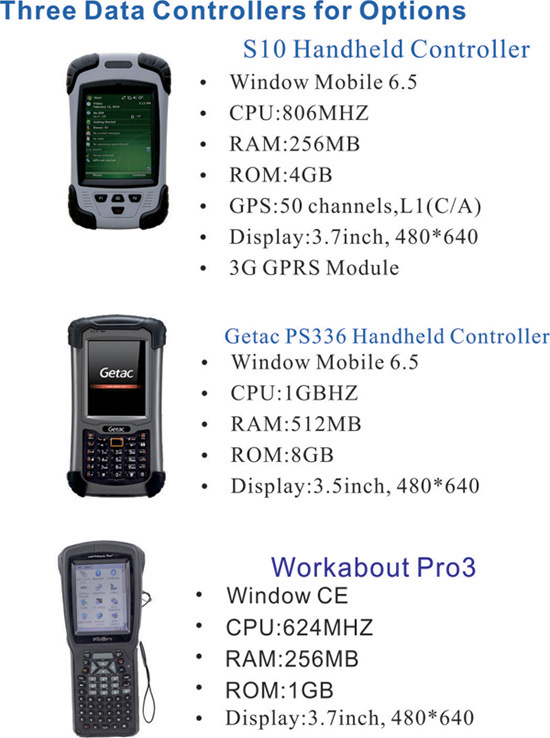 For the payment, it varies from by different countries and regions!
 
 
Company Profile


 


About Us
      Geodex is one of the leading worldwide provider of high precision Geographic Surveying & Mapping Equipment, our main products includes RTK GPS, handheld GPS, Total Station, theodolites, automatic levels, laser level and so on.
      These kinds of products are widely used for high precision measurement, surveying & mapping works, such as land & housing management, building, road, railway & city infrastructure construction, Topographic, Cadastral, monitoring and mining, hydro & marine surveying projects.
      Geodex's office & factories are based in China. Its head office is located in Guangzhou, and main factories are located in Guangzhou & Beijing. 
      Geodex's main customers are geographic surveying information departments and construction companies, its products are also sold to Colleague & University for teaching uses.
      Geodex sells products to many different countries. It has a high market reputation because it not only provides high quality products, but also excellent customer & technical supports.
Mission Statement
      Make A Difference by Delivering Surveying Equipment to All Over the World, Our mission is to help our clients to be more competitive and achieve more business success.
 
Packaging &Â Shipping
      Geodex has excellent performance in providing Oversea Transportation Solutions. Goods would be arranged to send by Express Courier door-to-door delivery service like DHL, Fedex, UPS, TNT and so on or General Air Cargo Service from airport to airport, shipment by ocean (boat), by truck via land transport or special line service forwarder agent appointed by buyers.
About Technical Supports
1) We provide not only high cost-efficiency surveying instruments.
2) but also professional surveying solutions and strong technical supports including maintenance &Â parts service.
3) Make sure Quality Verified &Â recalibrated before each shipment.
4) Fast Delivery, stocked in Guangzhou.
5) Professional Export &Â Import Service.
6) One-year warranty period of surveying equipments.
  
Contact
Guangzhou Geoland Instrument Co., Ltd.  
Add:Â D5-410, Minjie Squre, Shuixi Road, Huangpu District, Guangzhou, 510530, Guangdong, China
TEL: +86 (0)20-8251 6799Â Â Â Â Â FAX: +86 (0)20-8251 6499Â 
Website: http://www.geodexsurvey.com, http://www.geoland.cn
 
--------------------------------------------------------------------------------------------------------------------------