Structure Material:
Metal Material
Heat Transfer Surface:
Plate Heat Exchanger
Principle:
Regenerative Heat Exchanger
Mixing Heat Exchanger Type:
Cooling Tower
Core:
Aluminum Heat Exchanger
Transport Package:
Wooden
Induction Heating Welding Machine IGBT Induction Heater Brazing for Tube Pipe Brazing welding
Applications of induction brazing machine
Welding (braze welding, silver soldering and brazing)
It mainly aims to melt the solder by heating it to a certain temperature for the purpose of connecting two types of metals of the same material or different materials.
A. Welding of various hardware cutting tools, such as diamond tool, abrasive tool, drilling tool, alloy saw blade, hard alloy cutter, milling cutter, reamer, planning tool and solid center bit.
B. Welding of various hardware mechanical gadget: Silver soldering and brazing of metals of the same variety or different varieties, such as hardware toilet and kitchen products, refrigerating copper fitting, lamp decoration fitting, precision mold fitting, hardware handle, eggbeater, alloy steel and steel, steel and copper as well as copper and copper.
C. Compound pot bottom welding is mainly applicable to the braze welding of circular, square as well as other irregular plain pot bottom. It is also applicable to plain braze welding of other metals.
D. Welding of heating disc of electric hot-water kettle mainly refers to the braze welding of stainless steel flat base, aluminum sheet and tubular electric heating elements of various forms
Main characteristics:
1, MOSFET and Inverting technologies of First generation been used;
2, Simple structure and light weight;
3, Simple to operate, A few minutes is enough to learn it;
4, Simple to install, Installation can be done by unprofessional person very easily;
5, Advantages of the model with timer: The power and the operating time of the heating period and the retain period can be preset respectively, to realize a simple heating curve, this model is suggested to use for batch production to improve the repeatability;
Typical Applications:
1. For carbide saw blade brazing:
Diamond segment, diamond saw blade, marble saw blade, woodworking saw blade, cut grass piece, cut aluminum,
2. For metal tube brazing:
Copper tube, aluminum tube, steel tube, plug
3. For other metal brazing:
Alloy turning, milling cutter, planer, saw blades, reamer, boring knife;Â 

towel rack, soap nets, towel holder, auto accessories, moto accessories, metal terminals, hardware pieces, electric heating tube parts and fasteners
Installing Desire:
1, power supply wire: 6mm2 soft copper; Ground wire 4mm2 soft copper;
2, cooling water desire: Clean and not easy to scale, Inlet water temperature 25-36degree';
3, cooling water systerm: Running water; Circulating water from a pump to a tank; Use an industry refrigerate machine.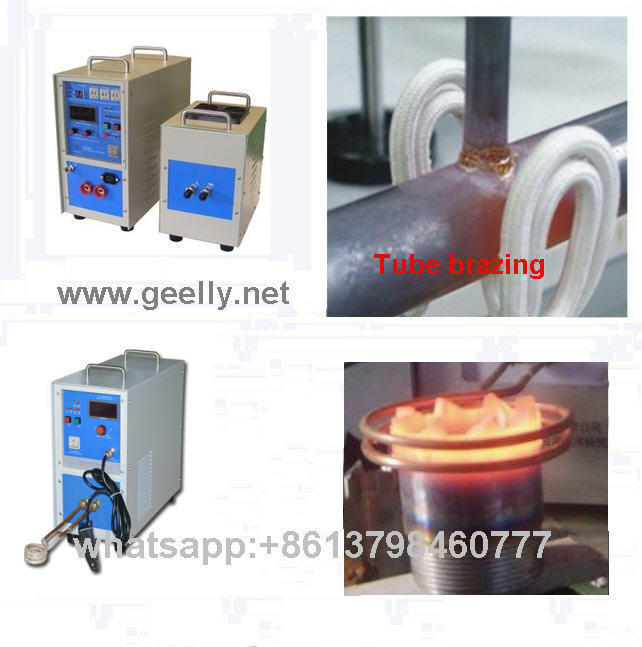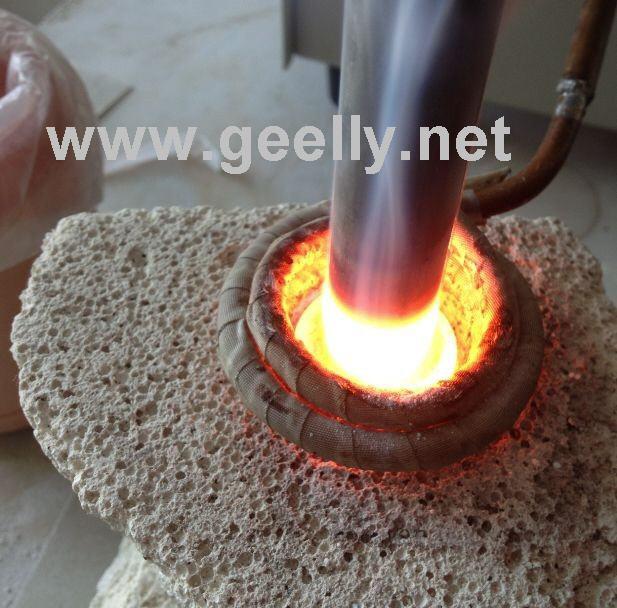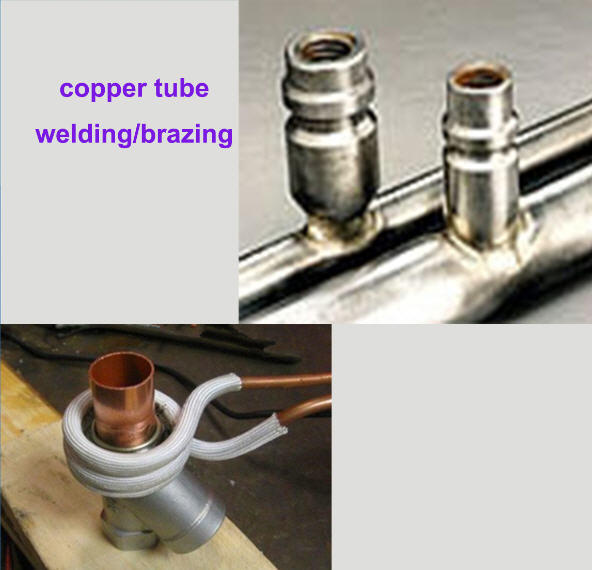 Model No
Input Power
Input voltage
Frequency
Heating current
Time Control
GHF-15
15KVA(7KW)
Single phase 220V/50&60HZ
30-80KHZ
170-600A
 
GHF-15A
1-99S
GHF-15B
 
GHF-15AB
1-99S
GHF-25
25KVA(15KW)
three phase 380V,415V,440V 50Â  or 60HZ
170-1000A
 
GHF-25A
1-99S
GHF-25B
 
GHF-25AB
1-99S
GHF-30AÂ 
30KW
10-70A
1-99S
GHF-30B
 
GHF-30AB
1-99S
GHF-40B
40KW
10-90A
 
GHF-40AB
1-99S
GHF-50G
50KW
10-105A
 
GHF-50GA
1-99S
GHF-70G
70KW
10-150A
 
GHF-70GA
1-99S
 
FAQ
Q: What's your advantage? Why we choose you?
A: 1,Our factory has over 15 years  induction line production experience, we have rich experience in the production and design the induction technology machine for customers.
 2, Great production capacity Sustainable Supply . According to customer requirements, We support the customized including the packing
3,  We use 100% new materials and the striclty control for the  production process, in consequence our defective rate is lower than 0.01%
Q: How long is your delivery time?
A: Generally it is 5-10 days if the goods are in stock. or it is 15-20 days if the goods are not in stock, it is according to quantity.
Q: How about warranty
A: 12 Months
Q: Do you test all your goods before delivery?
A: Sure, we double test all our machines before delivery to ensure the machine is 100% in good condition and working well

For more questions or details about us and our machines, please contact us as below,