Laser Technology:
Laser Flame Cutting
Laser Type:
Laser Cutter with Exhaust System
Laser Power:
150W Sealed CO2 Glass Laser Tube
Lens:
Imported Lens and Mirror
Interface:
USB Port and PC Port
Driver System:
Stepper Moto and Driver / Servo Motor
Transmission:
Germany Belt
Optional Configuration:
Honeycomb/Knift Table/up and Down/Rotary
Software Supported:
Coreidraw, Auto CAD. CAD, CDR.
Work Supported:
DSP Control System/ DSP Offline Working
Operation:
Manual and Viedo Operate
Transport Package:
Plywood
Specification:
1900*1550*1200mm
    GuangZhou Ruidi Laser Machine Equipment Co.,Ltd 
         
Guangzhou Ruidi Laser Equipment Co,ltd  (short for RD LASER)  Located in Baiyun district Guangzhou China, it is a professional manufacturer devoted to laser processing, develop laser engraving machine,laser cutting machine of several series. providing you perfect laser processing solution.
you can choose proper processing area and laser power to carve and cut non-metal material. we are well praise with our strength function.low price,good steadily and wonderful after sale service.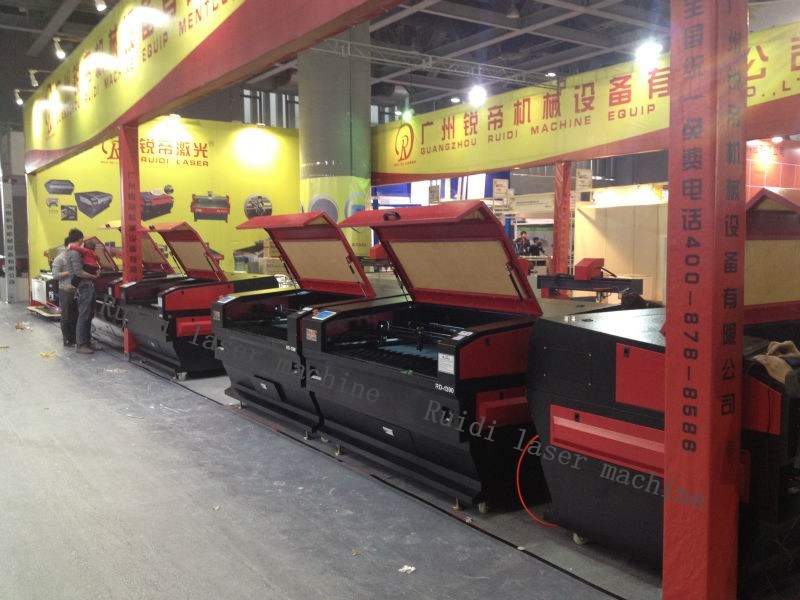 Technical Parameters:
| | |
| --- | --- |
| Model | RD-1390 |
| Engraving Area | 1300*900mm |
| Machine size | 1900*1550*1200mm |
| cutting Speed | 0-18000mm/min |
| engraving  speed | 0-64000mm/min(stepless speed regulating) |
| laser tube power  |  150w |
| Natural life of laser | 8000H |
| Laser wave length | 10.6um |
| Resolution ratio | 0.025mm |
| Minimum shaping character | Chinese character 2mm/ letter 1mm |
| Resetting positioning accuracy | ±0.01mm |
| Voltage | Ac220v±10%,50HZ/60HZ |
| Operating Temperature | 0°C-45°C |
| Operating humidity | 5%-95% |
| cutting table | aluminium slot and honey comb |
| Graphic Format Supported | BMP,HPGL (PLT), DXF, G-CODE, DST,AutoCAD, CorelDraw, CAD CAM, AI, Photoshop |
| software supported | Coreldraw,AutoCAD,Photoshop.llustrator etc |
| Driver Type | Stepper Motor |
| Cooling | water cooling |
| Opearate System | Win10/Win 7 |
| interface | PC or USB interface |
| mainboard | RD6442G-B |
laser engraving cutting machine infos:
 1.Lens ---II-VI lens
 2.Reflective mirror ----Molybdenum mirror dia25mm or dia27mm,dia30mm
 3.Stepper----leadshine stepper motor and driver
 4.Guiderail---TAIWAN linear Guide rail,
 5.Belt---Germany belt more difficult to grind.Hi precision gear
 6.Laser tube---yongli brand laser tube, good beam to cut
 7.working table----honey comb or aluminum strip table
Standard spare parts for laser machine:
 1.1xcommunication cable      
 2.1x USB cable              
 3.1x CD(RDCAM software 5.3/ 6.0 english version)                        
 4.1x air compressor                 
 5.1x exhaust fan
 6.1x exhaust fan smoke pipe
 7.1x water pipe/air pipe
 8.water chiller  5200 chiller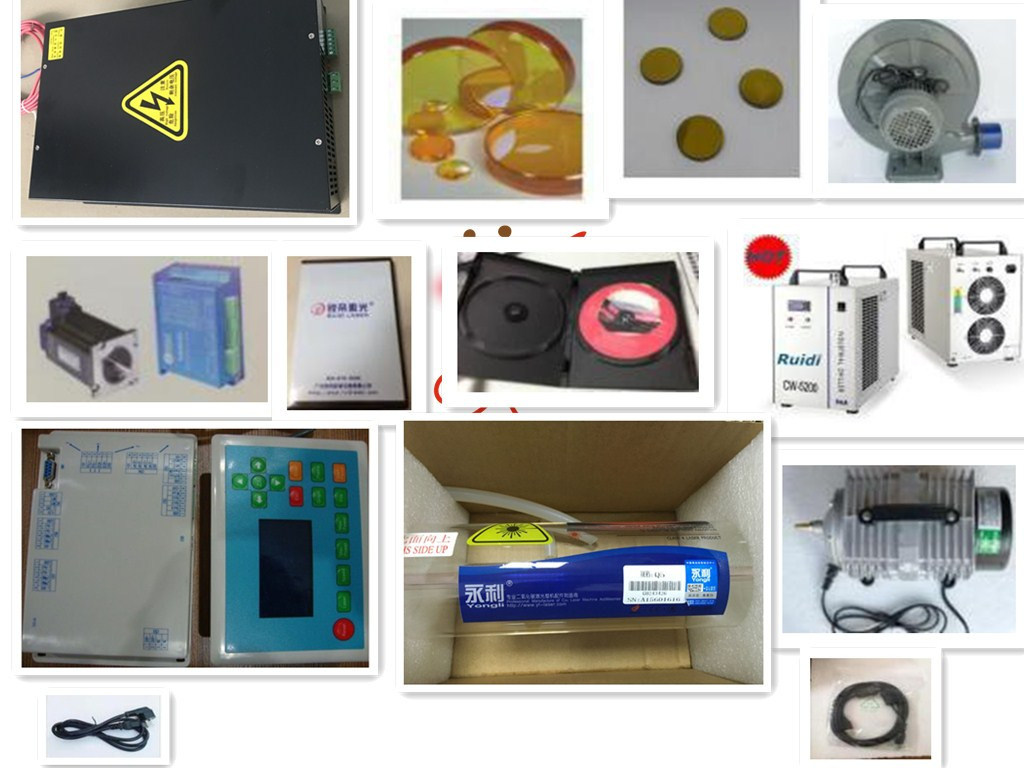 Option Accessories:
  1.Motorized up and down platform
 2.rotary attachment ,   
 3.auto foucus ,Red light pointer
4.knife table,honeycomb table
 5.industral cooling machine
 
Applicable Materials:
 Acrylic, Plastic, Acryl, PMMA, Perspex, Plexiglas, Plexiglass, Wood, Balsa, Plywood, MDF, Glass, Organic Glass, ABS, Paper, Paperboard, Cardboard, Leather, Marble, Bamboo, Rubber Sheet, etc.
 Applicable Industries:
 Advertising, Signs, Signage, Sign Letters, Advertising Letters, LGP, Photo Frame, Gifts & Crafts, Promotional Items, Plaques, Trophies, Awards, Precise Ornaments, Models, Architectural Models, etc
 
 Characteristic of laser  machine:
 1. Adopted DSP digital control technology integrated frame structure to ensure the work stability.
 2. Support latest software AutoCAD, CorelDRAW CAD, CDR and other graphical software make it  directly output pictures.
 3.The USB data interface can support heat play . 
 4.Adopts high Precision stepper  motor as drive par ,utilizes three original Taiwan  straight line guide tracks in  X and Y axis.
 5.Uses four pieces of specialized laser lens, and enables the machine speedy and accuracy incisive.
 6.DSP offline control system
 7.LCD touch panel
 8.Pass through design
 9.Emergency stop button
 10.Clean cut perfectly smooth
 11.High precision ,high speed,
 12.Single head or double head
 13.file can direct output from the corel,autocad
  14.This series of laser cutting andengraving machine is an ideal choice for professional user.    
 
 sample display: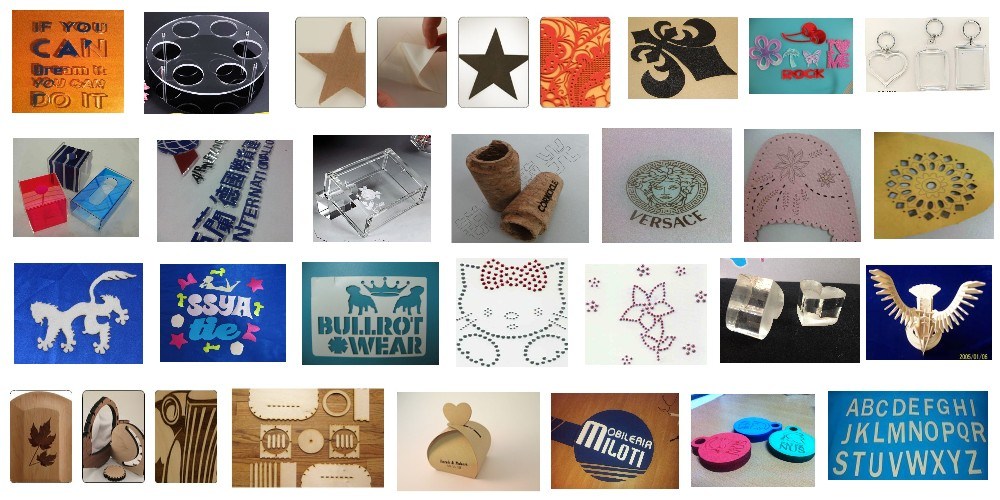 Packaging &Â Shipping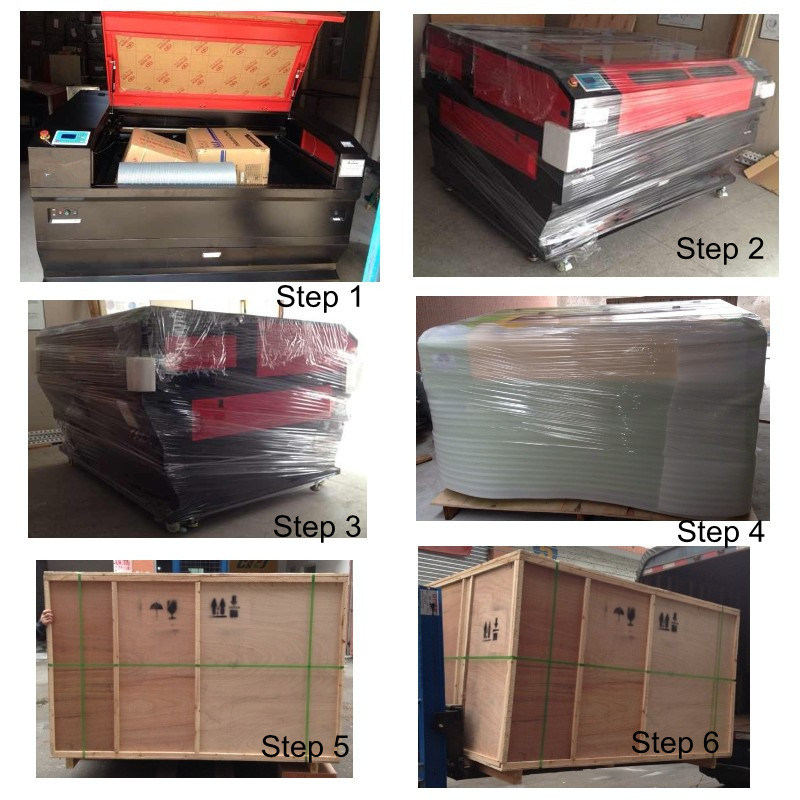 1.MOQ:1set
2.Delivery time:7-15days after comfirm order and received payment
3.payment terms:30% TT advance payment ,the balance will pay before shipment,payment by TT
4.packing way:Â Â plywood packing
5.Shipping Terms:completly machine ship by sea
6. Guarantee:
The machine guarantee for 1year
Our Services
 1.24 hours technical support by mail or calling .
2.Friendly english version manual and operation video. 
 3.Machine will be test ok before packing 
 
Why need use the laser machine ?
a.Laser machines are a highly versatile method of altering the properties of materials - laser cutting, laser engraving, etching, marking etc.
 
b.Lasers are the ideal technology for working in a wide range of job types and applications. They can both cut and engrave a wide range of materials, giving you professional products in a few simple steps.
 
c.CO2 lasers offer you the ability to cut and engrave varying thicknesses of materials such as acrylic,plexiglass.leather,fabric,cloth, rubber, MDF, plywood, paper/card and many, many more.excetp the metal.
 
Which Materials Can I Cut Or Engrave? 
CO2 laser machine systems can cut and engrave / mark a huge range of materials, such as acrylics, woods, fabrics and leather,rubber,plastic,pvc, double color board .except metal material.
 
Welcome to your inquiry to get update price ~
 
 Guangzhou Ruidi Machine Equipment Co.,Ltd-Contact details
Contact :Ms Lisa
Tel/Fax:0086 020-36619863Â Â Â Â Â Â Â Â Â Â Â Â Â Â Â 
Mobile:0086 13922433706
 
 
      
Company Address: 1st Floor 6th building WangGang YaNa Yuan Industrial JiaHe Street BaiYun District Guangzhou China, zip code 510440Â 
 
Low Pressure Filter is installed in the low pressure, suction or return pipeline of hydraulic system or aeronautical Systems to filter solid particle and slimes in medium and effectively control cleanliness.
Filter Element adopts many kinds of materials, such as glass fiber, resin-impregnated paper, stainless steel sintered fiber felt, stainless steel wire mesh ect.
Working pressure (max): 0-1.6 MPa
Operating medium: mineral oil, emulsion, water-glycol, phosphate ester, gas
Low Pressure Filter
Inline Filter,Low Pressure Filter,Low Pressure Inline Filters,Low Pressure Hydraulic Filter
Xinxiang Tianrui Hydraulic Equipment CO.,LTD , https://www.filterelement.pl