Control Mode:
Pendant/Remote/PLC Control
Power Mode:
Battery, Cable, Conductive Rails
Transport Package:
Tarp and Polywood Case
Specification:
5000*2500*650
Heavy Material Transfer Trolley In-plant use Rail Guided Transfer Cart
1.Product Introduction---Rail Guided Transfer Cart
Heavy material transfer trolley in-plant use rail guided transfer cart provide dependable, efficient transfer of loads for a diverse array of applications ranging from aluminum anodizing, paper roll storage, general manufacturing and can be customized to suit. This rail guided transfer cart can reduce labor costs, optimize manufacturing processes and reduce capital costs associated with forklift systems. The end result is increased production and throughput.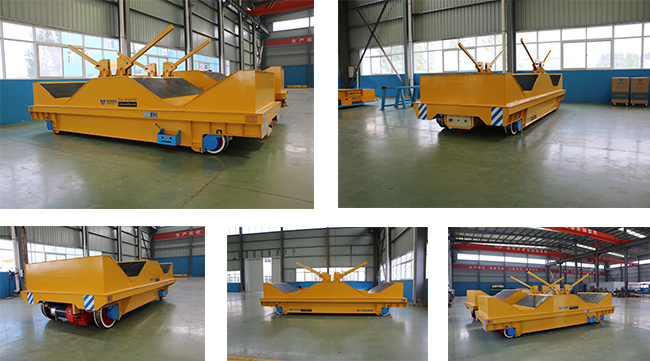 2.Product Advantages---
Rail Guided Transfer Cart
1) The 
rail guided transfer cart
doesn't need have any steering function since they equipped with steel wheels and move just on railways.
2) The rail
rail transfer trolley
 represent the superior design for production cycles which are regular or frequent both time-wise and route-wise.
3)Â As they have steel wheels and run on fixed steel rails they are suited for very high loading capacities owing to the very low friction between steel and steel.
4)Â For all the reason, the cost of the
rail guided transfer cart
  - referring to same dimensions and same loading capacity - is lower than the motorized battery trolleys on wheels which needed to equip with steering mechanism and greater powers.
5)Our company, with its 14 years experience in this kind of rail trolley, offers handling with state-of and the-art technologies, on account of continuous design improvement by insistingon most up-to-date electronic innovations.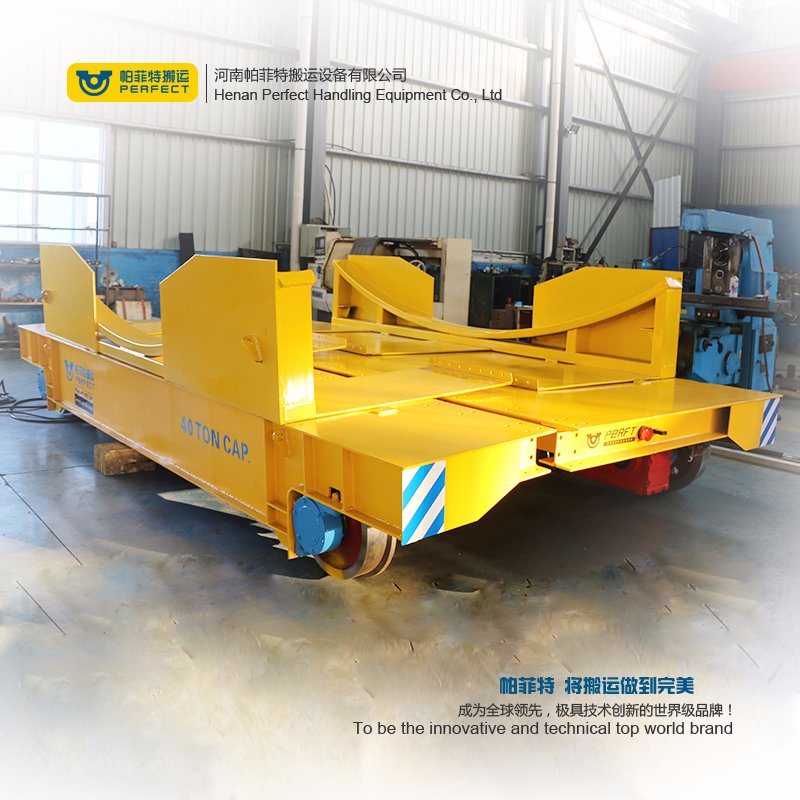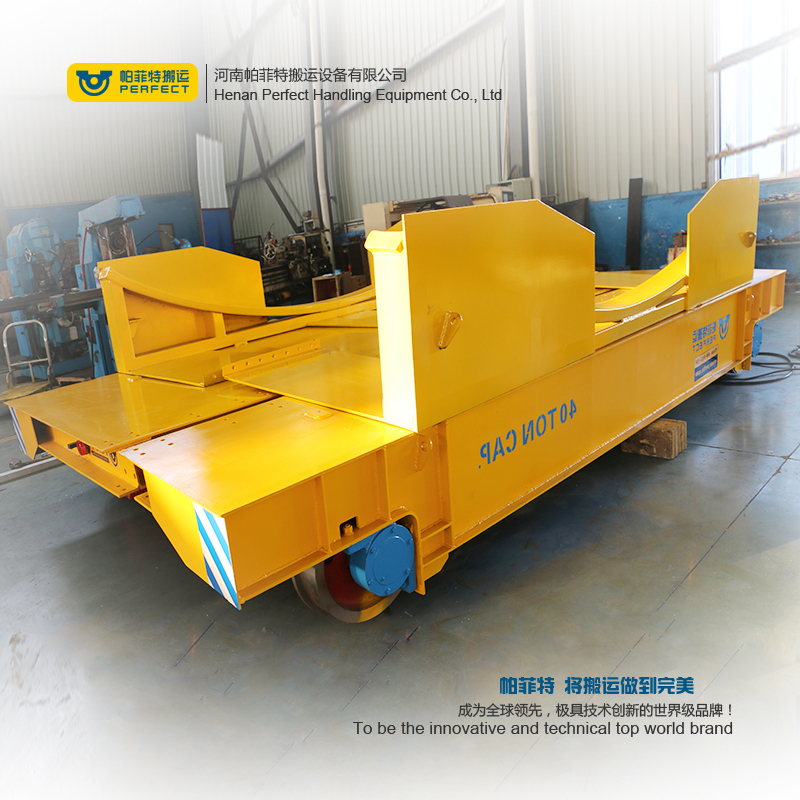 3. Application Areas---
Rail Guided Transfer Cart
The
rail guided transfer cart 
of PERFECT allow movement charges at ground level in all types of industries and applications, such as warehouse, within or without factory, bay to bay, airport, sea port, manufacturing workshop, production line, and son on. 
Regardless of the complexity of your transportation requirements and the use of the environment, our engineers with 15 designing experience can provide you with a viable solution. Tell us your requirements, feedback to you suitable project economically and reasonably.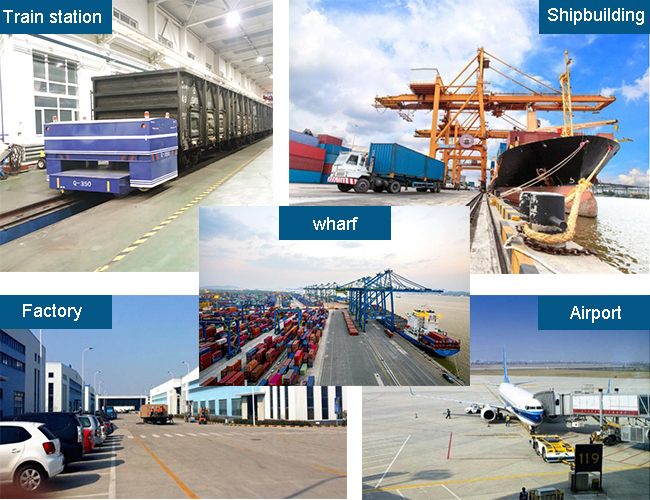 4.Product Details---
Rail Guided Transfer Cart
The current is supplied to pulling motor through electric control system, which makes the rail transfer trolley start, stop, move forward, move backward, turn around or change speed, etc. The
rail guided transfer cart
is standard equipped the cart frame, wheels, motor, reducer, battery, charger and hand pendant. And the trolley is also equipped with such safety device: buffer, alarm light, lifting hole, emergency stop button and radar detector.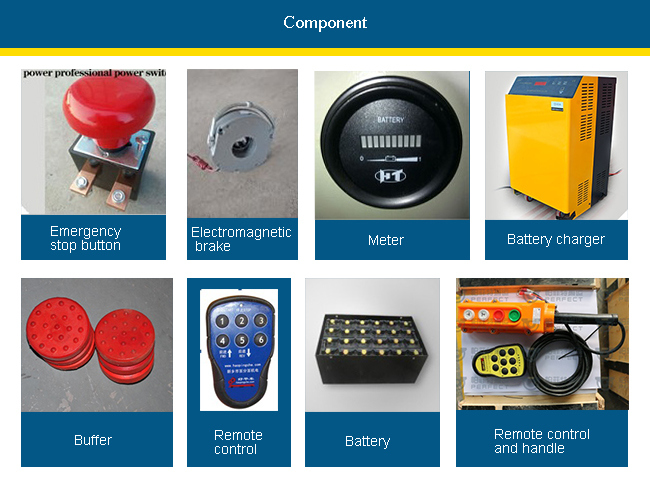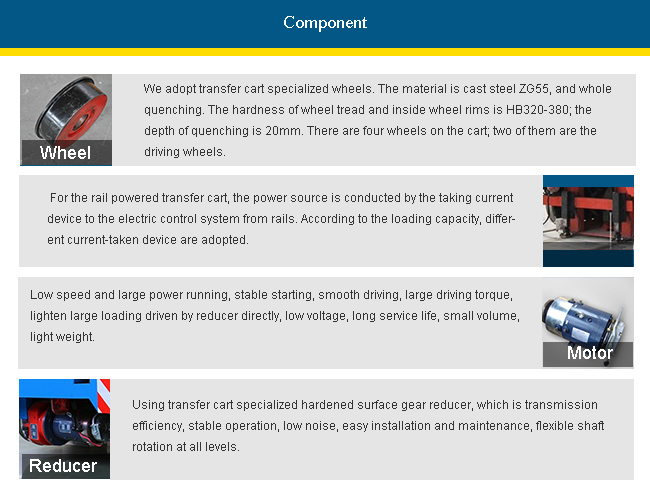 5.Characters and Parameter---
Rail Guided Transfer Cart
Model

BDGS-20t

BDGS-50t

BDGS-100t

BDGS-150t

Rated Load(t)

20

50

100

150

Table Size (mm)

Length(L)

4000

5500

6500

10000

Width(W)

2200

2500

2800

3000

Height(H)

550

650

850

1200

Wheel Base(mm)

2800

4200

4900

7000

Rail Inner Gauge(mm)

1435

1435

2000

2000

Wheel Diameter(mm)

350

500

600

600

Wheel Quantity

4

4

4

4

Ground Clearance(mm)

50

50

75

75

Running Speed(min)

0-20

0-20

0-20

0-18

Motor Power(kw)

2.5

5.5

11

15

Transformer Power(KVA)

6.8

10

30

30

Transformer Quantity

1

1

1

1

Running Distance(m)

70

50

50

50

Max Wheel Load(KN)

77.7

174

343.8

265.2

Reference Weight(t)

5.9

8

14.6

26.8

Recommended Rail Model

P24

P43

QU100

QU100