Feature 2:
Euro Brand Danfoss, M+S, Eaton and Others
Feature 3:
Stable Quality
Feature 4:
Customize Service Provided
Transport Package:
1 PC/ Inner Carton, 3 PCS/ Outer Carton
Specification:
27x40x14cm
High Speed Distribution Cycloidal Hydraulic Motor BMER-300-MST4 Low Leakage High Torque Replaces White

Hanjiu Hydraulics has a professional design team. The products can perfectly replace imported brands such as Eaton, White, Danfoss, etc.


Features:
 
(1) Compact size, high efficiency
 
(2) Low-friction and long life advantages
 
(3) Internal check valves, Escort seal
 
(4) This motor has a rugged housing with an extra large capacity side load bearing
 
(5) Shaft seal can bear high pressure of back and the motor can be used in parallel or series
 
(6) Geroler and drive use the SMT series motors parameter, prolong operating life.
 
 
Specification:
 
Model: BMER1-200-WS-T4-S
Disp. 11.96 cu.in./rev.
Pressure:
2973 PSI(Cont.)
3481 PSI(Int.)
Torque
4691 in-lb. (Cont.)
6310 in-lb. (Int.)
Speed
330 PRM (Cont.)
425 RPM (Int.)
Flow
18.5 GPM (Cont.)
22.4 GPM (Int.)
Rotation Reversible
Mount 4 Bolt Wheel
5.812 bolt circle, 3-1/4" pilot dia
Shaft 1-1/4" tapered*4.21"
shaft w/5/16" key and threaded end
Ports SAE 10
Size 4.94"*5.25"*5.45"
Shpg. 30lbs.
 
YPEÂ Â  Â BMSW-315Â Â  Â BMSW-400Â Â  Â BMSW-500Â Â  Â BMSW-630Â Â  Â BMSW-800Â Â  Â BMSW-985
Displacement(ml/r)Â Â  Â 314.9Â Â  Â 399.7Â Â  Â 496.6Â Â  Â 617.8Â Â  Â 787.4Â Â  Â 969.1

Max.Pressure.Drop(Mpa)    cont.    20    20    20    18    16    14
int.    24    24    24    21    18    16
peak.    28    28    28    24    21    18
Max.Torque(N.m)    cont.    873    1108    1385    1570    1773    1900
int.    1119    1440    1783    1951    2122    2133
peak.    1293    1650    2060    2249    2481    2399
Speed.Range(cont.)(r/min)Â Â  Â 10-475Â Â  Â 9-375Â Â  Â 8-300Â Â  Â 6-238Â Â  Â 5-187Â Â  Â 5-154
Max.Flow(cont.)(L/min)Â Â  Â 150Â Â  Â 150Â Â  Â 150Â Â  Â 150Â Â  Â 150Â Â  Â 150
Max.Output.Power(cont.)(Kw)Â Â  Â 32Â Â  Â 32Â Â  Â 32Â Â  Â 32Â Â  Â 32Â Â  Â 24
Weight(kg)Â Â  Â 30.7Â Â  Â 31.5Â Â  Â 32.4Â Â  Â 33.6Â Â  Â 35.2Â Â  Â 37.2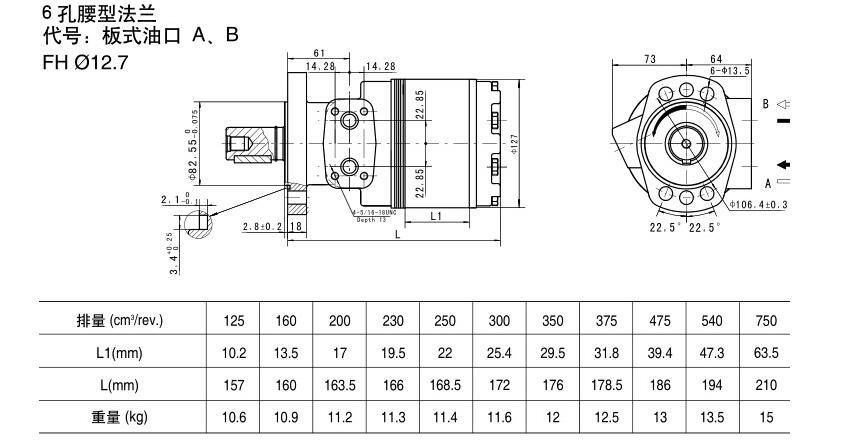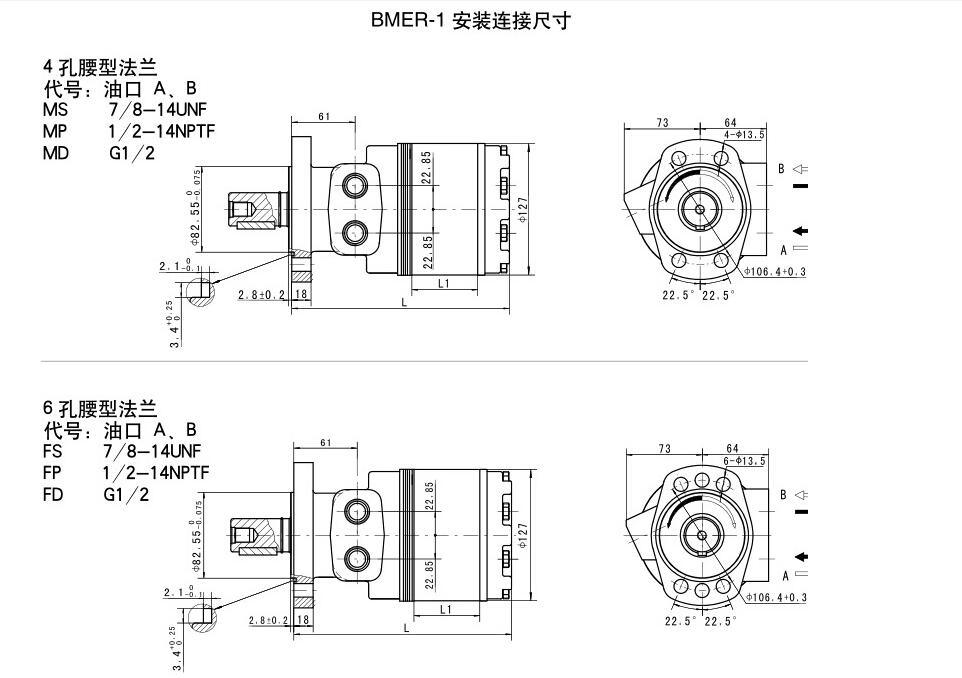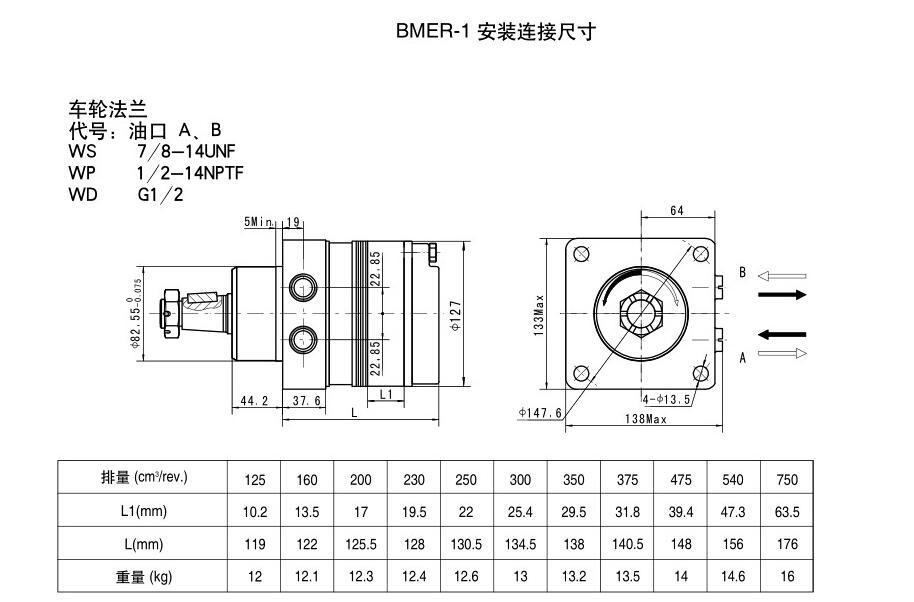 Product application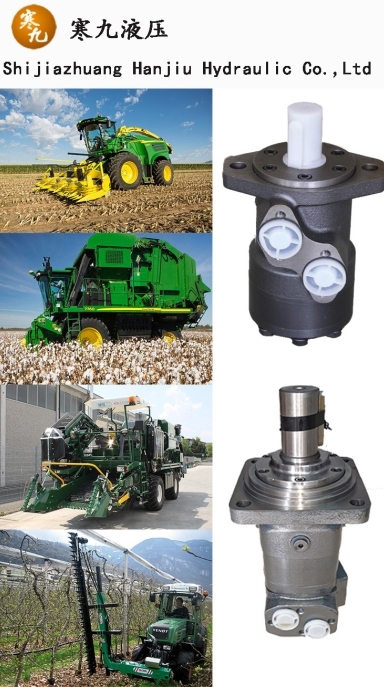 Shijiazhuang HanJiu technology co., LTD., is specialized in the production of BM series cycloid hydraulic motor, the BZZ redirector enterprise, my factory has dozens of high-quality, professional engineering and technical personnel, and more than in 2010, has introduced the most advanced production equipment, is in northern China's largest factories, production of more than 300000 units a year.
My factory specializes in designing and producing the motors and steering gear of any type, from large to small, from low to high, and so on. And can replace danfoss, Eaton, M+S series models. Products are widely used in engineering machinery, mining machinery, metallurgical machinery, petroleum machinery, agricultural machinery, injection molding machinery, fishery machinery, military engineering and other fields.
My factory take the good faith first, quality first for the purpose, from the employee on-boarding, raw materials into the factory, from parts processing, assembly proposal until products, has a relatively perfect system of product quality. And through CE certification. Our factory is dedicated to the establishment of an internationally renowned brand, looking forward to the long-term cooperation with more demand of hydraulic products.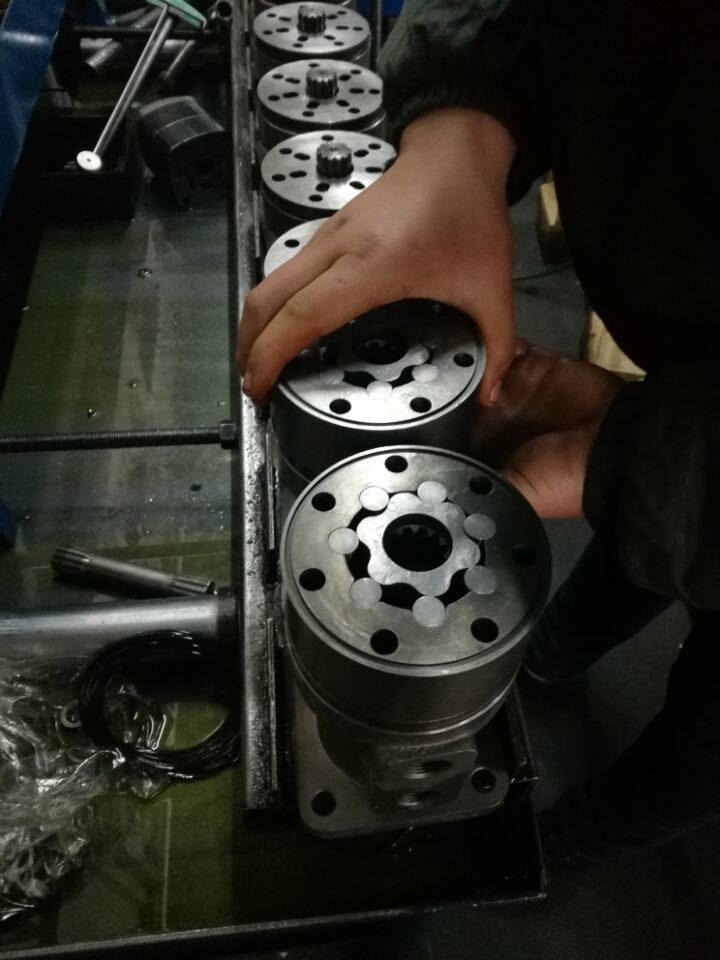 Please do not hesitate to contact us for further information, inquiries or orders.
Thank you for choosing 'Hanjiu' Hydraulics.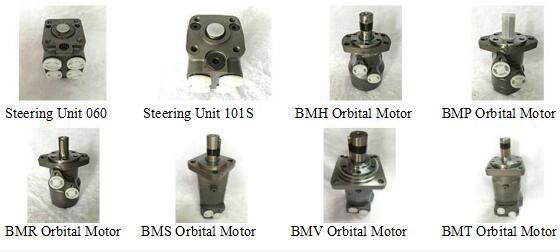 Gongyi Forui Machinery Factory , https://www.foruimining.com