In order to quickly curb the momentum of the various types of illegal activities that disrupt the order of exploitation of mineral resources, according to the "Circular of the State Council Concerning the Complete Order of Reorganizing and Standardizing the Development of Mineral Resources," the Ministry of Land and Resources has recently issued a report to the competent department of land and resources of each province (region, city). Issued an emergency notice to urge all localities to act quickly and do a good job in the "three investigations." In particular, special rectifications are implemented for rare earth, oil and gas, graphite, iron, gold and other minerals that have outstanding development order problems, and mining activities that affect the safety of railways and highways. .
The "Notice" requires a thorough investigation of various illegal exploitation of mineral resources. All unlicensed mining shall be reported to the local government and immediately closed; all those who fail to produce according to the approved development and utilization plan and seriously destroy wasteful resources shall suspend production for rectification and shall be punished according to relevant laws and regulations; In the case of mining or illegally transferring mining rights, it must be ordered to rectify. If the circumstances are serious, production must be suspended and rectified until the mining permit is revoked.
The second is to conduct a comprehensive inspection of all mineral resources exploration projects. Those who have not completed the minimum exploration input according to the project requirements shall be ordered to make rectification within a time limit. If they have not been corrected within the time limit, the exploration permit shall be revoked; any person who adopts alternative exploration shall confiscate the illegal proceeds and revoke the exploration permit; if any illegal transfer of prospecting rights, he shall be confiscated. Illegal income is fined and the exploration permit is revoked.
The third is to conduct a comprehensive inventory of violations of laws and regulations in the management of mineral resources. All violations of laws and regulations and the approval of mining rights shall be investigated. Any person involved in the operation of mining shall be dismissed first, and then be dealt with according to the relevant regulations.
The "Notice" requires that the above three tasks should be fully completed before the end of 2005, and the Ministry of Land and Resources will organize the force to supervise the implementation of the various localities, and set up a telephone number to receive social supervision. It is understood that around the establishment of a long-term mechanism for the management of mineral resources, the Ministry of Land and Resources is developing relevant supporting specifications. In the near future, laws and regulations will be introduced to further tighten the management of exploration right and mining rights and further standardize the mining rights transfer behavior.
Solid Tires Series:
Solid Tires for Forklift and Small Field Running Vehicles for Pneumatic Tires Rims
Solid OTR Tires for Pneumatic Tires Rims
Special Tires for Trailers for Pneumatic Tires Rims
Skid Steer Solid Tires With Rims
Solid Tires for Mining Machine With Rims
Solid Tires for Sintering Machine With Rims
Press-on Solid Tires
Solid Tires for Lifting Platform
Characteristics of Structure:
The wheel baseband is made according to the fitting specifications of the vehicles'pivot
bracket.And the thickness and the structure can be adjusted based on the tire
loading.After treating to the basebands,curing reasonable rubber around the baseband
surface to guarrantee the loading of tires and other usage performance.
Characteristics of Usages:
1.Smaller deformation, better stability and security.
2.Running smoothly, slight shaking and twittering.
3.Low rolling resistance, reducing energy consumption, basebands can be recycled reducing cost
and in accordance with the world trend of low -carbon economy.
4.Lower heat built up, good heat yield, overcome the blow-out problem.
5.Easy assembling, no need to fit rims, can be fixed to the vehicles and facilities directly, no worry for
spinning.
6.Heavier loading, 10%-15% increase of loading than the same size of tires.
About Us:
We manufacture and sell solid tires, as well as conducts research and development of the latest
technology of solid tires.
Our company products conform to standards such as Chinese GB, US TRA, European ETRTO,
and Japanese JATMA and have passed the ISO9001:2008 quality certification.
Our technical team has demonstrated their capability of delivering the best tire solution and products
to clients with different working environments, ranging from sea ports, supply chain centers, mines,
aviation grounds, high temperature operations, refuse disposal centers, railway constructions, tunnel
constructions, and heavy goods transportations to factories that require a super clean working condition.
Our solid tyres have been exported to North America, Europe, Northeast Asia, Oceania, and Africa.
Our company also delivers OEM products to many prominent enterprises, such as Sany Heavy Industry,
Carrie Heavy Industry, XCMG, Liugong Machinery, Maximal, Tailift MCC Baosteel and Haipeng Indestry etc.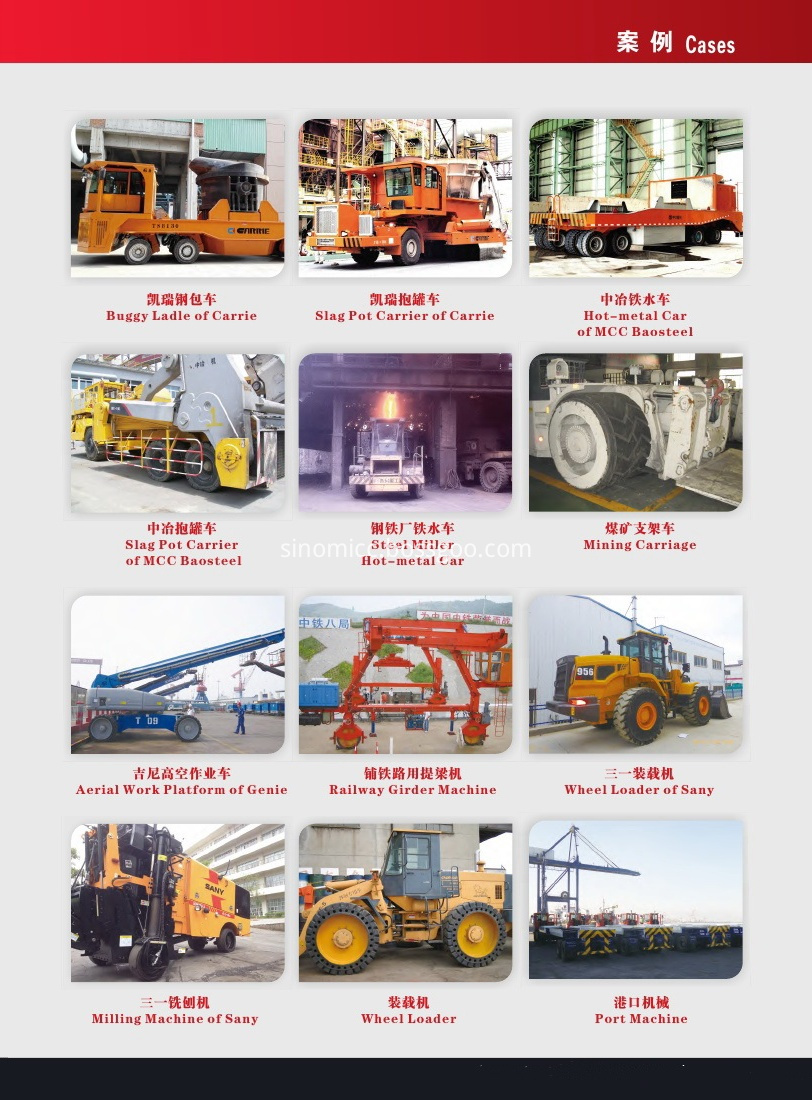 Solid Tires,Pneumatic Rims Solid Tires,Industrial Solid Tire,Running Vehicles Tire
SINOMICC INTERNATIONAL FULI RUBBER ROLLER FACTORY , https://www.rockstartyre.com