May 23, 2016, Beijing - Fiat Power Technologies, a leader and innovator of natural gas (CNG) engines in the European market, launched at the China International Transportation Technology Exhibition, May 23-25, 2016 Tai Meimei's natural gas engine with a 9-liter diesel engine will add another step to its alternative fuel solution for roads. The new Cursor 9 CNG engine is based on the best Cursor 9 diesel engine architecture in its class, providing customers with market-leading power and torque.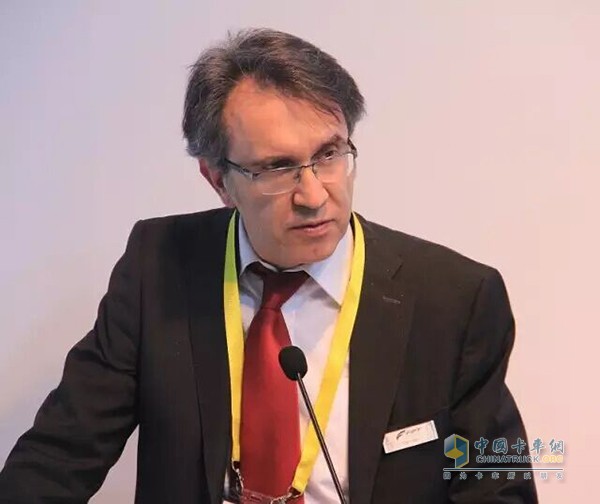 FPT Asia Pacific President Carlo
The Cursor 9 CNG engine launched under the strong slogan of "Strong Power" has a power of 400hp at a speed of 2000rpm and a torque of up to 1700Nm at a speed of 1200rpm. With such a powerful performance, the emission is much lower than the Euro VI standard. Its performance is comparable to the Cursor 9 diesel version and is the only alternative fuel engine that can compete with its class 8.7-liter diesel engine.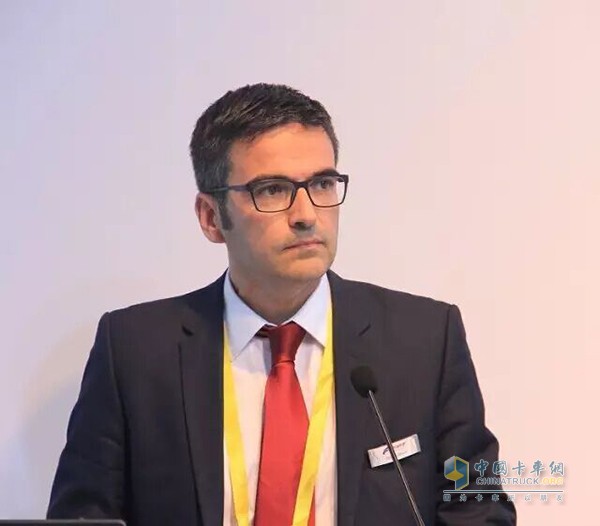 Gai Fan, Vice President of Global Markets and Products of FPT
A six-cylinder engine using natural gas (including compressed natural gas, liquefied natural gas, or renewable biomethane) is an ideal solution for heavy-haul transportation, garbage collection, urban and intercity transportation, and more. Compared to diesel emissions, the use of natural gas-powered vehicles significantly reduces carbon dioxide emissions. If biomethane is used, emissions are almost zero.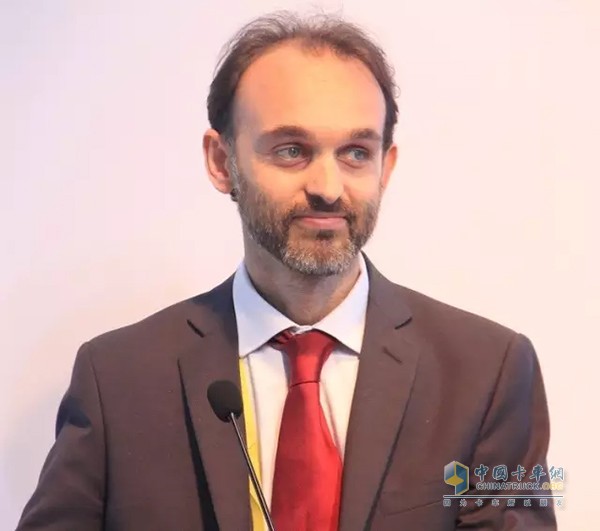 FPT Asia Pacific Chief Engineer Mark
The Cursor 9 CNG engine uses equivalence ratio combustion technology to generate power. Since Fiat Power Technologies began developing groundbreaking CNG solutions for industrial applications in 1995, equivalence ratio combustion technology has become the company's core technology. It is the only solution that meets Euro VI standards and is both feasible and cost-effective. .
The Cursor 9 CNG engine no longer uses Exhaust Gas Recirculation (EGR) or Selective Catalytic Reduction (SCR) technology to meet Euro VI standards. It only requires a simple three-way catalytic device. This is a compact catalytic converter installed at the end of the exhaust pipe. The monolithic construction surface is coated with three noble metals. Among them, platinum and palladium convert carbon monoxide and hydrocarbons into carbon dioxide and water, and convert nitrogen oxides into nitrogen. .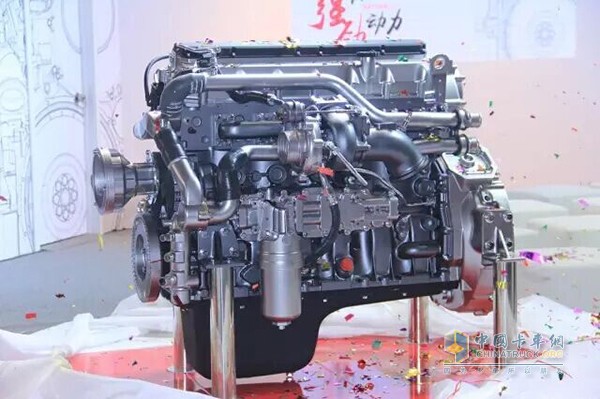 SAIC Fiat Red Rock Cursor 9 CNG Engine Displacement
The Cursor 9 CNG engine has a larger displacement and is equipped with a new multi-point gas injector and a new air track that enables higher flow rates. In addition, there are improved cylinder heads with large rotary air intakes, all of which make the Cursor 9 CNG engine with class-leading low fuel consumption.
Compared with the Cursor 9 diesel engine, the new engine has a low-nickel cast iron exhaust manifold and a water-cooled exhaust gas bypass turbocharger, which greatly improves reliability. In addition, the new piston ring provides 17% more fuel delivery than the Cursor 8, all of which makes the new engine's regular maintenance cost the lowest in its class.
In order to improve the comfort of the driver and improve the performance of the final product, the Cursor 9 CNG engine can also be combined with an automatic transmission, which is unprecedented for an alternative fuel-heavy engine. It is worth mentioning that the noise of trucks equipped with new engines is lower than that of ordinary vacuum cleaners, and noise is less than 72 decibels when used in the city.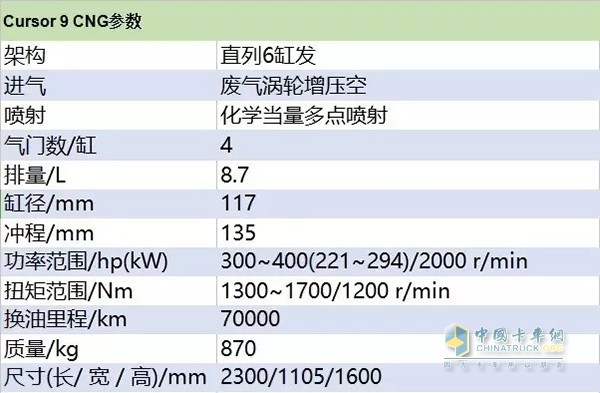 SAIC Fiat Cursor 9 CNG Parameters
"This engine has opened up a whole new market for alternative fuels. The existing products cannot meet the requirements of the transportation company." Annalisa Stupenego, president of Fiat Power Technologies brand, said, "One of our missions is to continuously promote innovation. This is Why Fiat Power Technology once again broke through and developed the class-leading Cursor 9 CNG engine, which will be the best choice for long-haul trucks and intercity bus power systems."
Fiat Power Technology is a pioneer in natural gas engine R&D. With more than 25 years of experience accumulated, it has sold more than 29,000 natural gas engines and has the most widely used road engine product line on the market to meet light, medium and heavy commercial vehicles. The demand for use can also meet the needs of non-road equipment such as agriculture.
FPT Industrial, a subsidiary of Case New Holland Industrial Group, specializes in the design, production and sale of powertrains for road and non-road vehicles, ships and generator sets. The company has 8,400 employees, 10 factories and 6 R&D centers worldwide. The sales network covers more than 100 countries, including 93 distributors and about 900 service stations. Investment in China includes a management company in Shanghai and a joint venture. The extensive product line (31 to 740 kW for 5 engine series and 200 to 500 Nm for torque transmission) and the focus and investment in research and development make FPT Industrial a global leader in industrial powertrains.
For the car there are many small accessories. Different small things can give your car a different decoration. They all have their own function. Some products not only can make your car looks more beautiful but also can protect your car from some damage. Everyone will put some small accessories in the car in order to use them soon when need them. It`s small and easier to bring and install.
Car Accessories,Car Parts,Auto Accessories,Car Accessories Interior
Ninghai Chunye Car Accessories Co.,ltd. , http://www.chunyeauto.com