Innovation is the soul of Weichai . Over the years, Weichai's technological innovation work has been advancing with each passing day and has made brilliant achievements. It has created a number of important scientific and technological achievements that lead the development of the industry, and has won a number of major patents and honors in key technology fields. Among them, the State Key Laboratory of Reliability of Internal Combustion Engines is undoubtedly The most shining one, it represents the highest level in the industry. During the Weichai Science and Technology Innovation Conference, the reporter interviewed Wei Dehui, vice president of Weichai Power.
Reporter: The history of research and development of Weichai has been carefully studied, with independent development and absorption. How should we grasp the relationship between independent development and technology introduction?
Qi Dehui: There is no absolute criterion for the independent development and introduction of absorption. Weichai is a company that completely participates in market competition, rather than a national research institution, so many times it is "how it is appropriate to do it". However, we must make it clear that self-development is not a matter of closing the door to engage in development. Instead, it is an open innovation that focuses on me and focuses on talent cultivation. Only by linking innovation can we use the best resources in the world for my own use.
In the 1980s, we introduced foreign technology because we did not have the ability to independently develop, and the huge market gap created by the rapid economic development did not allow us to spend a lot of time starting from the basics and developing little by little. . Now that we have a strong enough positive development capability, we will still selectively introduce some technologies and consider the economic benefits. Through the introduction of digestion, certain mature technologies can be quickly mastered, and the market can be transformed into considerable economic benefits, consolidating the company's market position.
Reporter: In recent years, companies have been committed to creating a good atmosphere of innovation through system reforms and process reengineering. What do you think is the purpose of our innovation?
Ruan Dehui: Innovation is not to create inventions, nor is it something that others have not done. For companies, innovation is a real work, must have economic benefits, can not achieve industrialization of technological innovation, can not Calculate effective innovation.
The Chinese people are keen on novelty and like to focus on what they will not do, but they do not do the best they can do. For example, how much technical content can a Swiss Army Knife have? It can rely on the market to rely not on the monopoly of advanced technology and exclusive technology, but on reliability, and to achieve the best product quality, which is recognized by people all over the world. Therefore, we do innovations. Many times we don't blindly develop so-called new technologies. Instead, we constantly optimize core technologies that we have mastered. We continue to accumulate experience and data in long trials, trials and errors, and corrections to give our customers outstanding results. Quality, not some untested innovation gimmicks.
This is why we need to consider the reliability and powertrain technology of the internal combustion engine as the company's core technology and differentiated advantages. Many times, the innovation of a certain technology is a layer of window paper, and it is broken at a time, but the experience is that it cannot be bought, stolen or learned. Weichai's 70 years of technological accumulation is our most valuable experience. The reliability advantage that we have produced with decades of hard work has not been easily surpassed by our competitors. In particular, the state key laboratory for the reliability of internal combustion engines settled in Weichai. This not only directly proves that our reliability advantages have been recognized by the industry, but also provides favorable conditions for us to continue to exert our reliability advantages.
In the increasingly fierce market competition and the increasing homogeneity of product technology, it is difficult for us to achieve the goal of "no people have me". The key is to position ourselves well and continue to strengthen and consolidate it so as to form "I have excellent people". Therefore, researchers do innovations, not how many bizarre ideas, based on the process and norms of product development, application, to meet the needs of customer differentiation, develop products that customers love, create benefits for the company, It is the best technical innovation.
Reporter: The main body of technological innovation is people. How to cultivate a talent team with innovative spirit and ability? How do you evaluate the innovation ability of the current R&D team?
Qi Dehui: A company that pursues innovation depends on a large team rather than one or more outstanding talents. We often say that the technical department must strive for innovation and emphasize the cooperation of Wanma instead of single horses. Hey, go it alone. After more than ten years of hard work, Weichai has developed the most stringent development process in the domestic industry. The start of each project is divided by dozens or even hundreds of people in the process, so as to minimize the interference caused by adverse human factors and improve R&D efficiency and guarantee development success rate. On the basis of the implementation of the process, we have organized and plannedly mobilized R&D personnel to innovate, and cultivate individual capabilities in the process of cooperation and exchange. This is the main way for us to upgrade our talent pool.
In preparing for this conference on scientific and technological innovation commendation, I discovered that all we have won are team projects rather than individual recognition. Some projects cannot even immediately identify the only responsible person. This is a very good phenomenon. Teamwork has become the mainstream way of corporate innovation. In the era of commercialization of technology, companies have several outstanding "personal heroes" that are not enough to be a measure of the capital of an enterprise's ability to innovate. They have a huge team of innovations, and they are rushing forward to scramble and chase after them to form an innovative force. It is the fundamental performance of a company that has the vitality of innovation.
Jiaxing Ganland Auto Parts Co., Ltd 's one of the main products is Truck Door Hinges , Van Door Hinges ,Semi Trailer Hinge Mild Steel,Lorry Truck Door Hinge,Refrigerated Truck Door Hinge, Trailer Door Hinge , , Heavy Duty Door Hinge, Caravan Door Hnge, Swing Door Hinge, Metal Door Hnge, 6 inch Door Hinge, Door Hnge for Truck, Trailer Door Hinges, Folding Door Hinge, Heavy Duty Cabinet Door Hinge, 90 degree/180 degree Door Locking Hinge etc.
For the materials of our Truck Door Hinges, we have two materials. One is steel and the other is 304 stainless steel. For steel material, we have two surface treatments. One is galvanized zinc plated surface and the other is hot dip zinc plated surface. For 304 stainless steel, it is polished surface treatment. They are widely used in Various Vans, Trucks, Trailers, Containers and other commercial vehicles
For the types of our Truck Door Hinges, we have many different sizes and types to suit for different commercial vehicles and cabinets. For more choices, please check the Truck & Van & Trailer Door Hinge Series or contact us directly.
We have many big clients in domestic, like CIMC, DONGFENG etc. Also we have many clients overseas. For more information, you are warmly welcome to send us an email. We will feedback to you ASAP.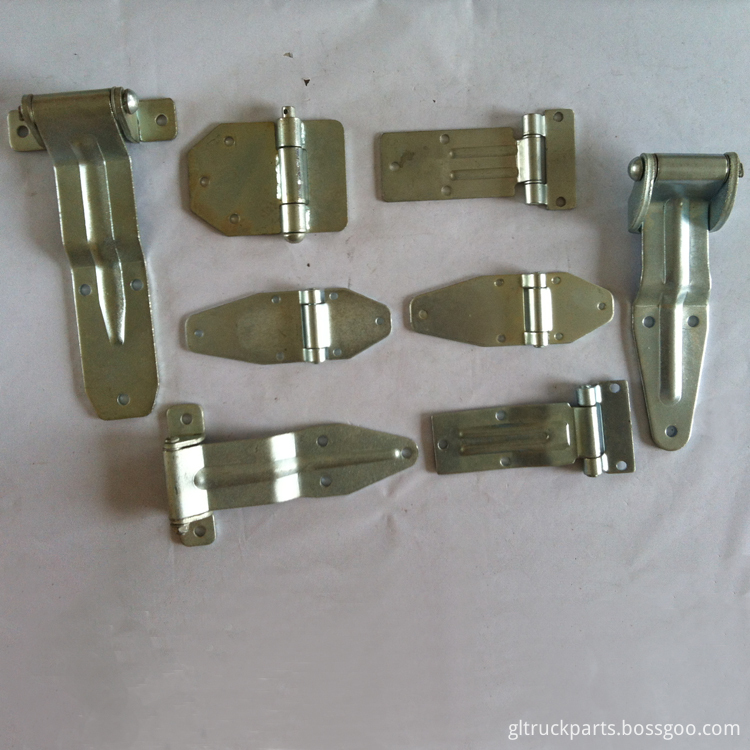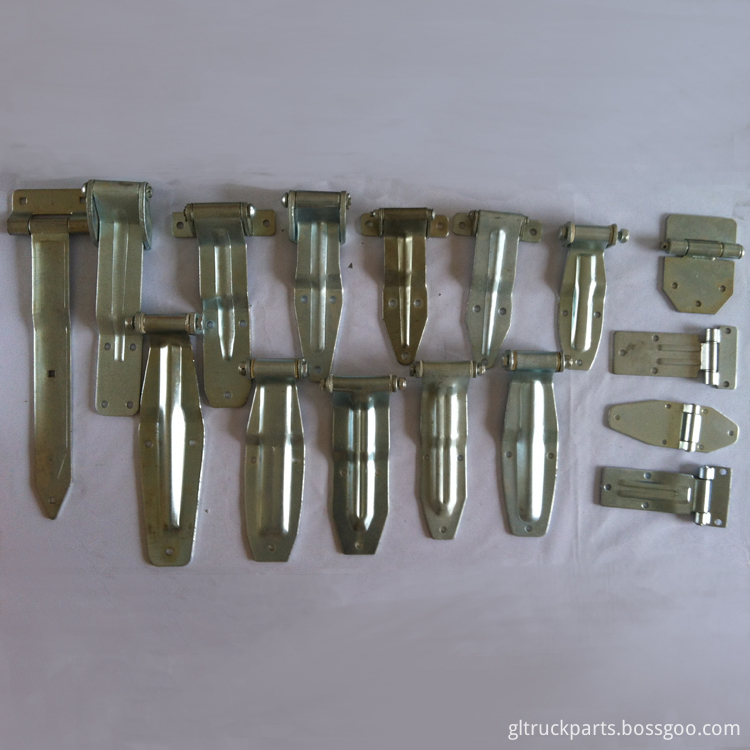 Truck & Van & Trailer Door Hinge Series
Van Door Hinges,Lorry Truck Door Hinge,Truck Locks Latches,Cam Action Door Lock,Trailer Door Hinges
Jiaxing Ganland Auto Parts Co., Ltd. , https://www.gltruckparts.com