New home renovation, is to buy a few split machines and cabinets or buyers with central air-conditioning purifier? Compared with split air conditioners, home central air conditioners are beautiful and elegant, giving people unparalleled visual enjoyment, but in order to truly get into the homes of the citizens, the coexistence of beauty and functionality is the core. As experts say, central air-conditioning can't just look beautiful, it must have "real talent" to impress users. After all, what are the advantages and disadvantages of home central air-conditioning? This article will explain in detail, leading everyone to a fair and comprehensive understanding of home central air conditioning.
The advantages of home central air conditioning purifier
1 The entire family satisfies the comfort conditions and avoids the uncomfortable phenomena of direct blow and cold and uneven heat in the room caused by other split machines. 2 The decoration is good, and there is no exposed pipeline with the decoration. The entire system is in a concealed state. 3 The operation is simple, automatic operation, no maintenance; 4 can increase and reduce the amount of cooling (heat) according to the direction of each room, function, etc.; 5 can add fresh air, humidification, so that the indoor air remains fresh and sanitary.
High comfort: Each central unit of home central air conditioning has an air outlet and a return air inlet respectively. The air circulation is more reasonable, the indoor temperature is more uniform, the temperature can be kept constant, and the human body feels more natural and comfortable, especially the central air-conditioning system of the water system. The comfort is very high; while the traditional household wall-hangers and cabinets are prone to airflow dead angle, the indoor temperature difference is obvious, and it is easy to get air-conditioning disease. Space-saving, highlighting the quality of decoration: The family's central air-conditioning indoor unit is concealed in the ceiling, which avoids occupying the interior space like a cabinet, and brings more freedom to the placement of the furniture, such as placing a flower stand in the place where the cabinet is placed. In addition, the "Tibetan" as the installation of the United States and the decoration can be a good integration, invisible and improve the room decoration effect and grade, and ordinary cabinets and wall hangings pipe line exposed, very unsightly.
Low cost of use: Traditional splitters are greatly affected by changes in indoor ambient temperature, frequent start and stop of fixed frequency air conditioner compressors, and high power consumption; while central air conditioners use DC conversion technology and new refrigerant technology, each indoor unit can be individually controlled Which room needs cooling to open that room, the outdoor unit "output on demand", so that the compressor has been in the best conditions, low power consumption. In addition, the larger the room area, the more cost-efficient it is to install central air conditioning.
Long life: The service life of domestic split air conditioners (wall and cabinet) is between 5-8 years, while that of home central air conditioners is between 15-20 years, of which, Trane Central Air Conditioning Water System is used. The service life is 25 years. If it is a ground source heat pump central air conditioning system, the service life of the system is 50 years. Therefore, the service life of the central air conditioner is at least twice that of the home console.
The disadvantages of home central air conditioning purifier
The initial investment ratio is high: People who often buy things can basically come up with a theory: Good things have high natural prices, but there are also good and inexpensive things among them. The key is how to sum up experiences and seize opportunities. Users who are initially exposed to central air-conditioning are unavoidably regarded as having high prices, but most of the high-end residential homes will also give priority to home central air-conditioning after actually understanding their functions and effects.
The installation is complex and synchronized with the renovation: The home central air-conditioning purifier is a complex technical project. On the one hand, it needs to be synchronized with the renovation. On the other hand, the installation requirements are very strict. Only professional design and construction teams can complete it.
Batch Waste Plastic Pyrolysis Plant
Pyrolysis Plant is used for recycling waste tire, waste plastic, waste rubber to fuel oil. According to the actual situation in every country and district, we developed different models of Batch Pyrolysis Plants for waste tires, rubber and plastic with daily capacity 5 -10 tons.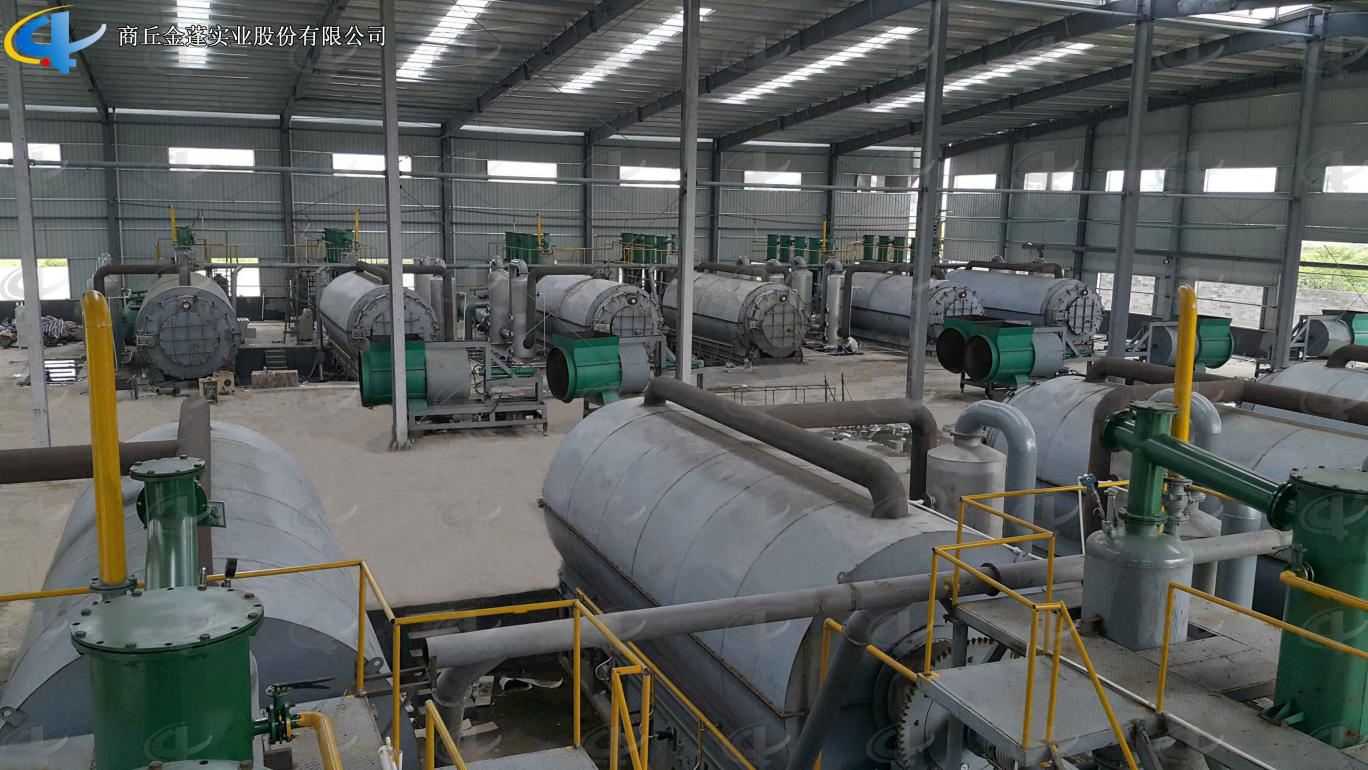 Flow-chat of Batch Waste Plastic Pyrolysis Plant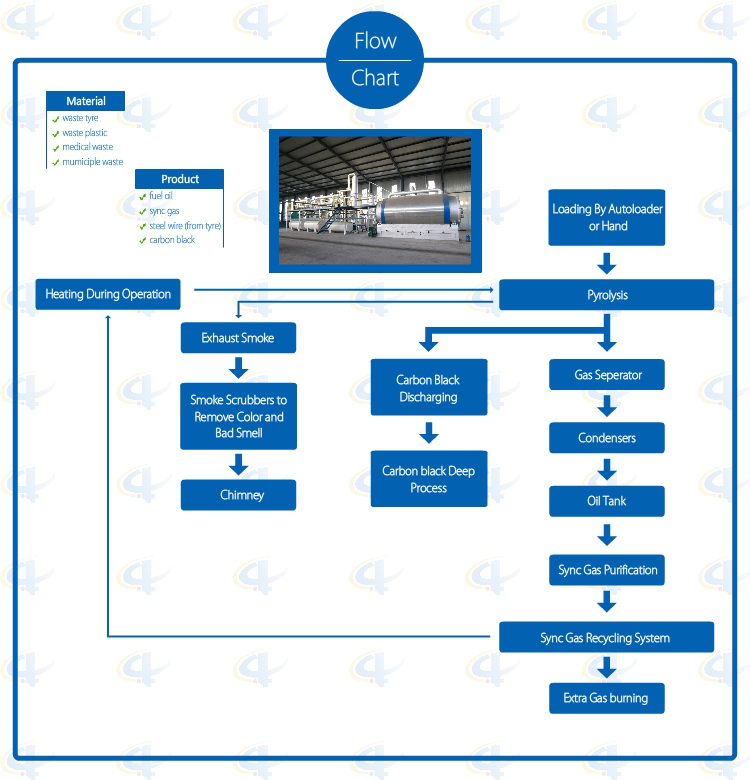 Advantages of Batch Waste Plastic Pyrolysis Plant
1. Full open door design: Speedy loading in and steel pulling out; Easily cooling down after one batch finished, saving time; No leaking with special high temperature flexible graphite packing.
2. Unique Craft Condensers: High condensing efficiency with more oil output. Good quality oil, longer lifetime, and easy to clean.
3. National Patent Unique Smoke Scrubbers: More efficient removal of the acid gas and dust of the smoke by neutralization, purification and absorption, environmental friendly without pollution.
4. National Patent Carbon Black Discharging System: Speedy fully enclosed Auto-discharging under high temperature, avoiding carbon black pollution, saving time.
5. Automatic Submerged welding technology, ultrasonic nondestructive testing, both manual and the automatic safety devices.
6. Sync Gas Recycling System: Fully burned after recycling and utilization, saving fuel and preventing pollution.
7. Direct Heating System: Enlarging heating square to lengthen the lifespan of the reactor and easy to control the temperature.
8. National Patent, unique heat insulation shell; high efficiency temperature keeping, excellent energy-saving effect.
Technical Parameter of Batch Waste Plastic Pyrolysis Plant
NO.

ITEM

PROJECT

1

Equipment Model

XY-7

XY-8

2

Door Model

Full Open Door

Full Open Door

3

Suitable Raw Materials

Rubber/Plastic Products

Rubber/Plastic Products

4

Structure

Horizontal Type Revolves

Horizontal Type Revolves

5

Reactor Size

Φ2200*6000mm Φ2600*6600mm

Φ2200*6000mm Φ2600*6600mm

6

Capacity for One Batch

5-6Mt; 8-10Mt

5-6Mt; 8-10Mt

7

Oil Yield of Tires

40%-45%

40%-45%

8

Work Pressure

Normal Pressure

Normal Pressure

9

Reactor Rotation Speed

0.4R/M

0.4R/M

10

Fuels Choice

Coal, Wood

Coal, Wood, Gas, Oil

11

Power

18KW/H

18-25KW/H

12

Cooling Method

Water Cycling

Water Cycling

13

Type of Drive

External Annular Gear

External Annular Gear

14

Heating Method

Direct

Direct

15

Type of Installation

With Foundation

With Foundation/Integrated Base

16

Noise dB(A)

≦85

≦85

17

Operation Mode

Intermittent Operation

Intermittent Operation

18

Total Weight(MT)

25-40

25-40

19

Installation Space Required

30m*10m

30m*10m

20

Manpower

3~4/batch

3~4/batch

21

Shipment

Ф2200×6000=1*40HC+1*40FR

Ф2600×6600=2*40HC+1*40FR

Ф2200×6000=1*40HC+1*40FR

Ф2600×6600=2*40HC+1*40FR
Batch Waste Plastic Pyrolysis Plant
Batch Waste Plastic Pyrolysis Plant,Fuel From Plastic Waste,Plastic To Oil Machine
Shangqiu Jinpeng Industrial Co., Ltd. , https://www.recyclingthewaste.com